Smunch is a food tech startup founded in 2016 and based in Berlin. They take on the challenge of balancing the daily work life by offering an office lunch solution. The promise is to deliver healthy, diverse and — due to tax benefits — highly affordable lunches for all employees. Smunch shares the simple belief that eating well is the key to a happier life.
Since October 2018, Smunch is a member of MoBerries' network, and we're glad that Anna took some time to talk with us about Smunch's culture, goals, and vision as well as their experience with MoBerries.
Online Canteen for Happy Teams – what does it mean?
The name already explains it quite well: the idea is to replace a traditional canteen with a more modern online version. Employees still get to choose from a variety of daily dishes, like they would in a canteen, and they are free to decide what and if they want to order. But the food is not prepared on site but at a restaurant. This way we can offer the companies more choice and also save them the horrendous costs of running a canteen on their own premises.
What's the story behind your business idea?
It all started when our founders realized how unhappy they were with the food options surrounding the office they were working at back then. Their breaks were wasted queuing for soggy Currywurst and dry Brötchen — very annoying. So they decided there must be a better solution that allows office people to fully enjoy their break time sharing a meal and a laugh.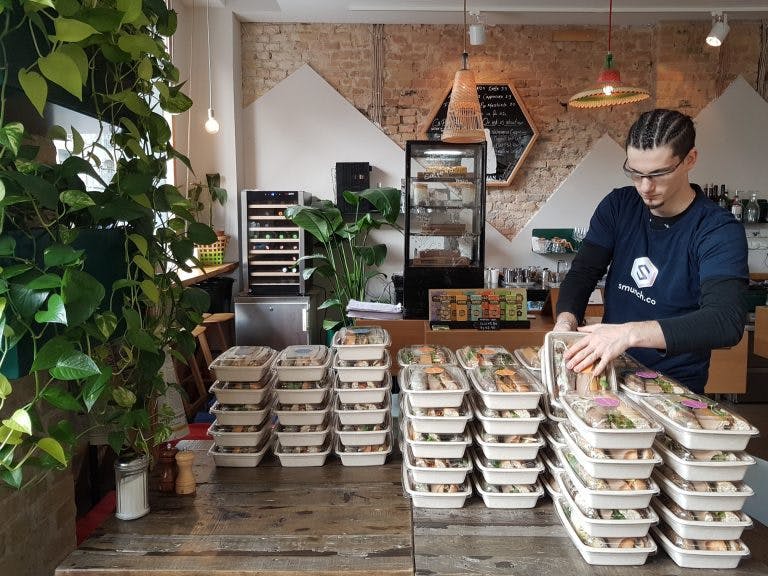 What does the name Smunch mean?
Oh, that's easy: it stands for smart lunch! 'Cause that's what it is, right?
Describe your company core values in one sentence.
Well, we're a startup and haven't been around that long, which means that we are still in the process of defining the official version. But what I can say off the record is that we aim to create a fun environment with a 'work hard, play hard' spirit where people love what we do, which is bringing teams together over delicious, healthy and affordable food.
What are the challenges and benefits of founding and operating a startup in Berlin?
To be fair, I haven't been around during the very early days, but we regularly hear the anecdotes from back then — when three people did it all, crammed into a tiny office space in Mitte. Orders were taken on Excel sheets, food boxes got crushed because the packaging was all wrong — it's trial and error, like with any new business. But Berlin is a fantastic place to kickstart your dream: people are open-minded and happy to try a new concept, rents are still affordable(ish) as compared to other such melting pots — even though office space is rare, and you can get just about any cuisine here, which definitely works in our favor. Luckily we also have a lawyer on our founding team, which means that we could avoid a lot of legal errors other startups might make.
Are there other cities you want to provide your service?
Definitely! We are actually already operating in Munich and Hamburg and are setting up Düsseldorf as our fourth city. But we won't stop there and are already looking at other possible locations. And who knows, maybe 2019 will be the year when Smunch goes international? 
What's your philosophy, regarding food?
We want Smunch to stand for healthy ingredients. Our idea of a great dish includes a lot of proteins, fresh veggies, lean meat, and fiber. We try not to weigh our customers down with tons of carbs, but still, aim to make the meal filling and satisfying. When we first started we really avoided sugar and fat as well, but there is a demand for burgers and schnitzel, so we have now added a few of those choices to the range. 
How do you choose your restaurant partners?
It's important to us that our partners care about food the same way we do. We work with them to create a special menu based upon their own recipes that feature ingredients that are well-suited for delivery. So they definitely need to be open to suggestions and keen to find the perfect creation. Quality, taste, and attention to detail are essential!
How do you deal with the plastic waste deriving from food delivery packaging? Do you have a solution?
Actually, our packaging doesn't have too much plastic. The food comes in boxes that are made of cane. The tubs for dressings or dips as well as our cutlery are produced from maize. As a result, all of the packaging except for the lids on our boxes is 100% compostable. As for those lids, they are made of 50% recycled plastic — and can be recycled again. Just dispose of them in the yellow plastic bin!
How do you differentiate yourself in the field of food delivery? What's your USP? What do you do better than your competitors?
There are definitely many competitors out there, yet not many of them are focusing exclusively on the B2B market. Our concept was created specifically for companies, which is probably why it works so well for them. I think one feature that really sets us apart is the fact that everybody can order individually, yet everything is handled as one big bulk order, which is a logistical advantage. Also, since we offer the option of a payroll integration, companies can make use of tax benefits such as a Sachbezug and an Essenspauschale. It sounds super complicated at first, but basically, it means that both the company and the employee can save on taxes and social security costs. It works the same for a traditional canteen or a food voucher and it means that the effective price of the meal is up to 50 % lower than at the restaurant. I guess people like a bargain — I mean, who wouldn't? 
What are your next big steps? Are you planning new features, updates or expanding your business field?
We definitely have a lot of ideas and plans for the new year, most of which will be a surprise. One step we mean to tackle is to create a proper Smunch mobile app to make it even easier for our customers to order. We are also considering adding more products to our range — stay tuned! And of course we want to bring amazing food to even more people, so we are checking out possible new locations.
Smunch is a quite new member of MoBerries' network, how do you like it so far?
MoBerries is one of our core recruiting channels, and always saves our candidate pipelines. 
What do you like most about MoBerries? What are your favorite features?
I like the simplicity, and flexibility for setting and re-setting the search.
What are your biggest benefits since you are using our solution?
Since MoBerries has a huge candidate database we always get some good candidates, especially in the times when other sources deliver disappointing outcomes. In the times of "post & pray" MoBerries offers an excellent solution to fill the pipeline and keep recruiting moving forward.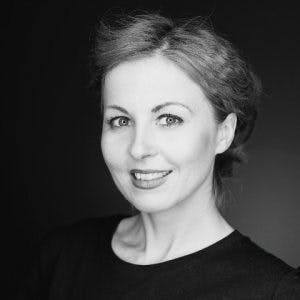 Anna Punda
HR Recruiter
Special thanks to Anna for taking the time to interview with us!
Want to get the chance to get hired by Smunch?
Or are you still looking for the right recruiting partner?