Guide to your Recruiter Account
Refer candidates and make money – simple & easy with MoBerries' Recruiting Suite.
Sign-up & approval on the platform
Access your Recruiter Account in 4 steps
Head over to https://recruiter.moberries.com/signup and fill in your information
You will receive your sign-up confirmation through email. MoBerries team will review your request.
When the MoBerries team accepts your sign-up, you will receive the second email with a link to activate your account.
If there were any problems with activation, contact us via support@moberries.com
You are now ready to invite candidates to join your Recruiter Network!
Candidates Management
Create your own candidate pool and manage profiles easily online on our platform.
Status Updates
Follow the application progress and receive updates about a candidate accepting an offer, getting invited for an interview, etc.
Guaranteed Rewards
Automatically get paid after a successful hire and completed candidate probation period.
Automated Matching
Use the power of our neural network-based candidate-job matching algorithm to satisfy your customers.
Focus On Sourcing
No need to look for companies and try to find a contact with HR managers. We solve it for you.
Recruit with confidence
You retain the ownership of the candidate profile for 12 months after you submit the candidate.
Headhunters & Recruiters
We give you the opportunity to focus on what you do best – sourcing top-quality candidates in your field of specialty. Instead of spending time cold calling, negotiating contracts, getting on vendor lists, and collecting fees, you can spend your time sourcing more candidates by working with us.
Recruiting Agencies
Larger agencies can take advantage of higher percentage hiring fees (up to 90%). Contact us for details at partners@moberries.com
You will need your personal referral URL to invite candidates. You can find it in your Dashboard.

Copy the URL and send it to potential candidates. Once they accept the invitation and create a MoBerries profile, you will be able to see them on your Dashboard and in the Candidates tab.
Note that the candidate needs to sign up by clicking on your unique URL. It is not possible to refer/recommend a candidate who is already registered on the platform.
CANDIDATE SIGN-UP: Candidates fill out the sign-up form and receive access to the MoBerries network. They set-up a profile and upload their CV. Our AI does the rest – candidates are matched to appropriate job positions in real-time.
Learn more about the candidate experience at https://www.moberries.com/
High-demand job positions
You can also browse High-Demand Job Positions to learn about the current market trends.
Click on the Job Positions tab and select the category you are interested in providing candidates for. You will see details of the jobs as well as related hiring fees. We offer this functionality to help guide you and streamline your candidate sourcing.
Market Intelligence
You can see which industry is looking for candidates and what are the hiring fees. Results are updated in real time, giving you a detailed overview of the market dynamics.
Right Candidates
You can see which candidates are in high-demand and build your network accordingly.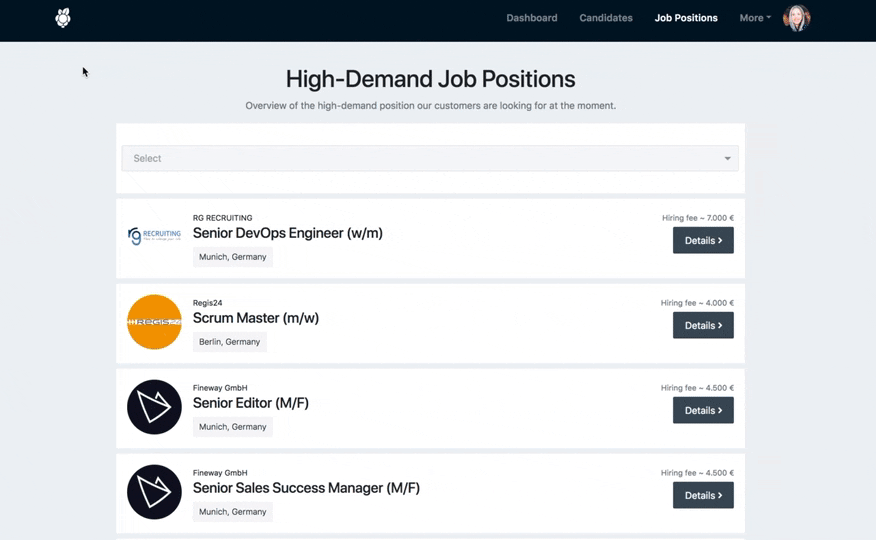 You get rewarded for each hired candidate with 50% of their hiring fee
The placement fee for jobs depends on the positions' seniority level. The prices are calculated dynamically according to the current demand and job requirements. You can see a pricing preview below. It is also possible to define your own hiring fees, please contact us regarding this feature via mail to partners@moberries.com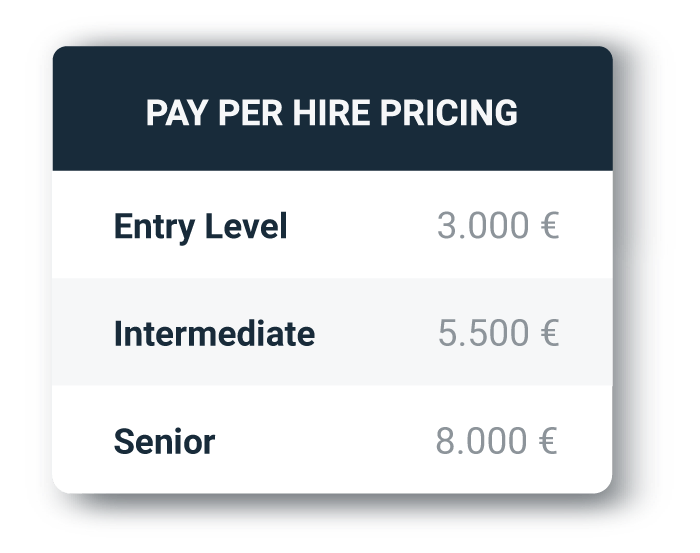 The cost to hire is displayed in the candidate's profile during the review process. Price is dependent on the career level of the open position.
By accepting the candidate you agree to the related hiring fee in case of a successful hire.
Payments
We offer our partner companies a 40-day warranty period, meaning that recruiters are being paid within 40 days after their candidate's starting date.
Head over to the Candidates tab and click on Details on a selected candidate to access the overview.
Candidate's statistics include:
Applications: Number of direct applications by the candidate
Intros: Total number of introductions to companies
Offers received/accepted/denied: Number of job offers received/accepted/denied by the candidate
Matches total: Total number of job matches
Matches accepted: Percentage of matches accepted by companies
Matches declined: Percentage of matches declined by companies
Additional Information in the Candidate Overview:
Last Activity: Shows when the candidate visited MoBerries last
Matches: Overview of the jobs the candidate matched with, featuring the hiring fee for the company.