Guide To Your MoBerries Account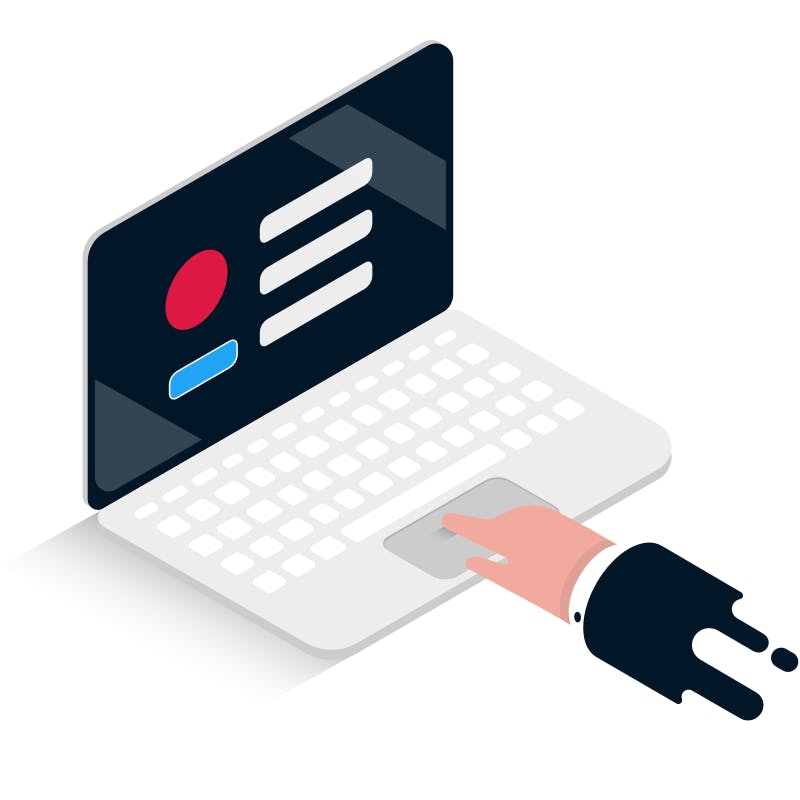 Create Your Profile
Create your free profile and tell us what you are good at in only a few steps — Let our AI do the rest.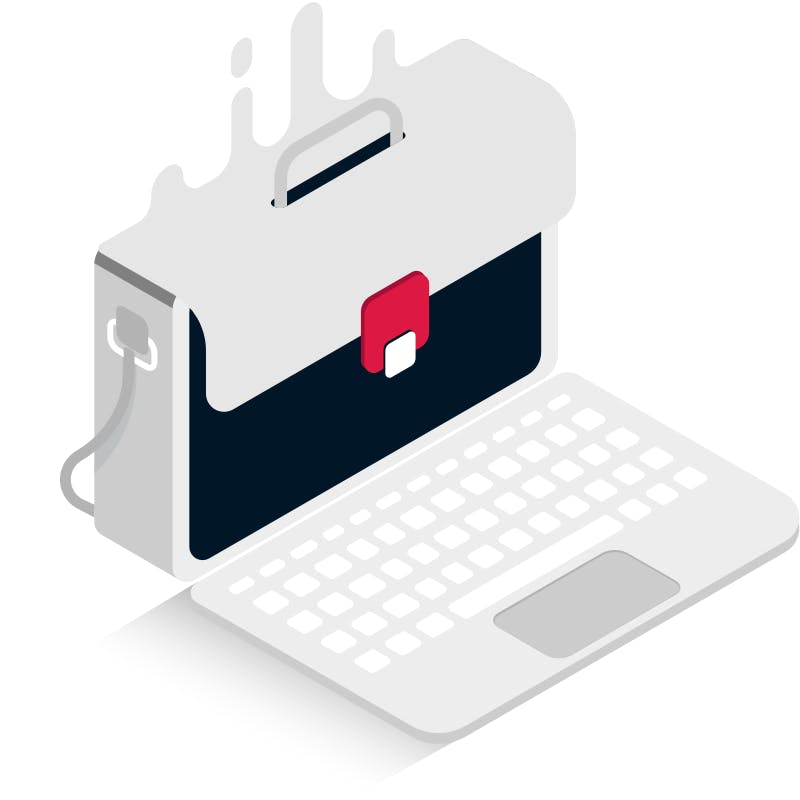 Match With Jobs
Our system finds matches for you in real-time — you decide to decline or accept!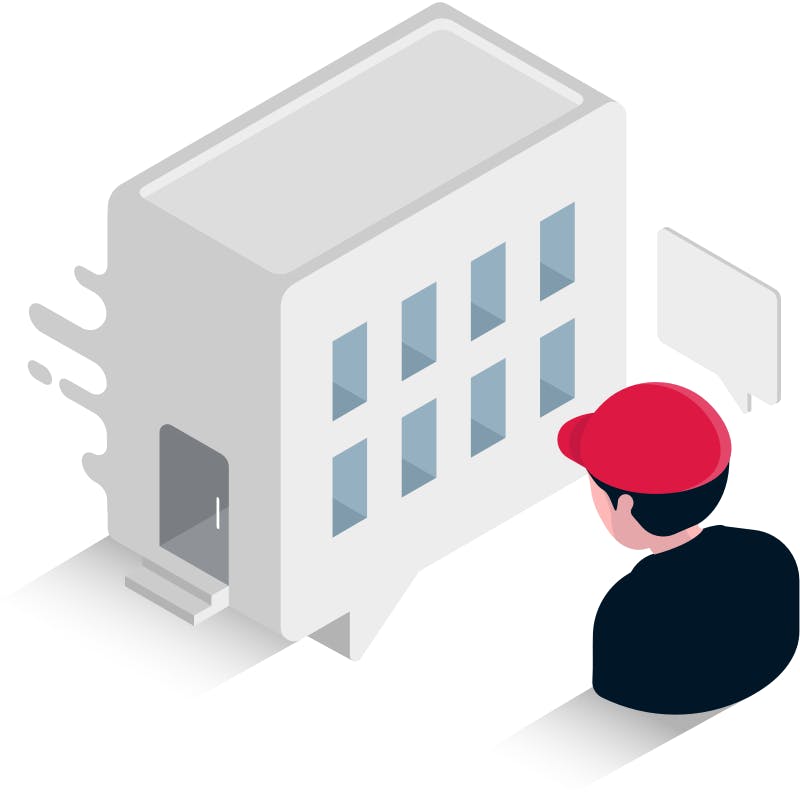 Get Hired!
Communicate and set up interviews with matched companies. Get hired for the perfect position.
1. Create your profile. First of all, upload your CV. Our CV prediction feature will pre-fill your skills & experience level. You can adjust those fields in the Skills tab later on.
2. In the Personal section, you can update your personal information.
3. In the Preferences section, you can specify your hiring expectations, including your career level & salary range. 
4. In the Skills section, you can specify which job category you are interested in and list your key skills.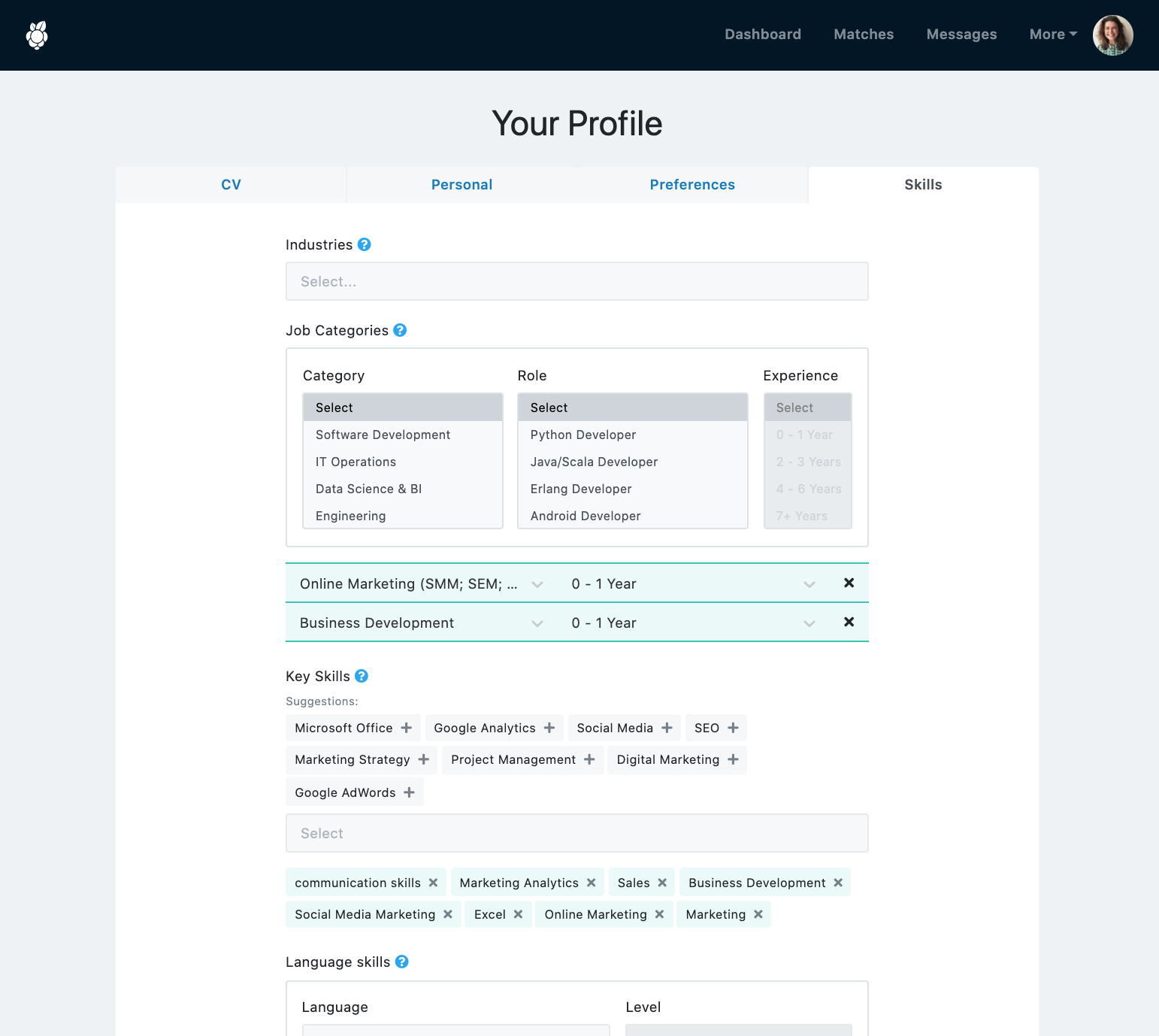 1. Once your profile is completed, you will be matched to appropriate positions that will appear on your dashboard. You can either decline or accept matches.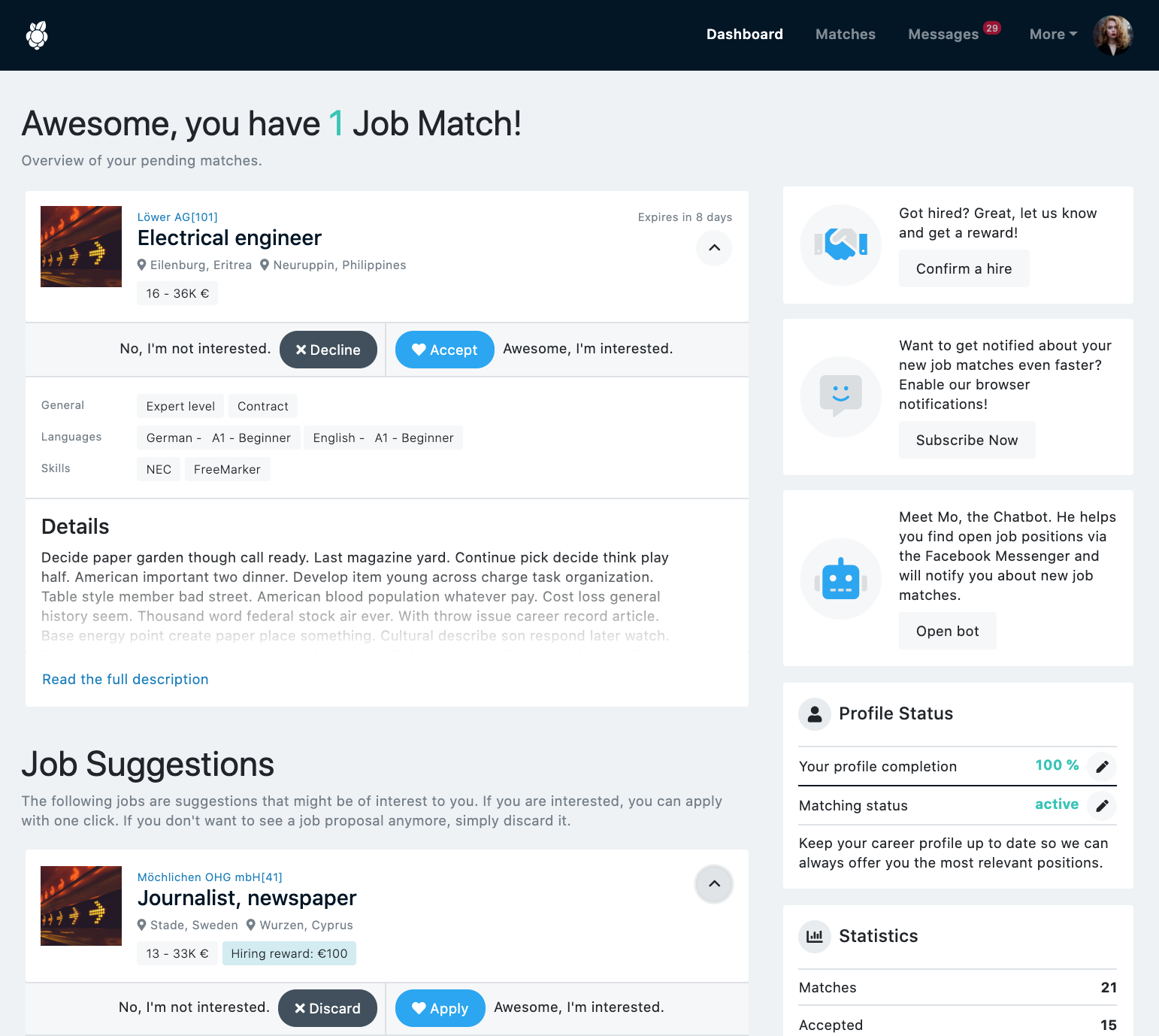 2. Underneath your matches, you will find job suggestions. They are not the same as matches, as they do not match your specifications 100%. Nevertheless, they are potentially interesting job opportunities that are definitely worth a look.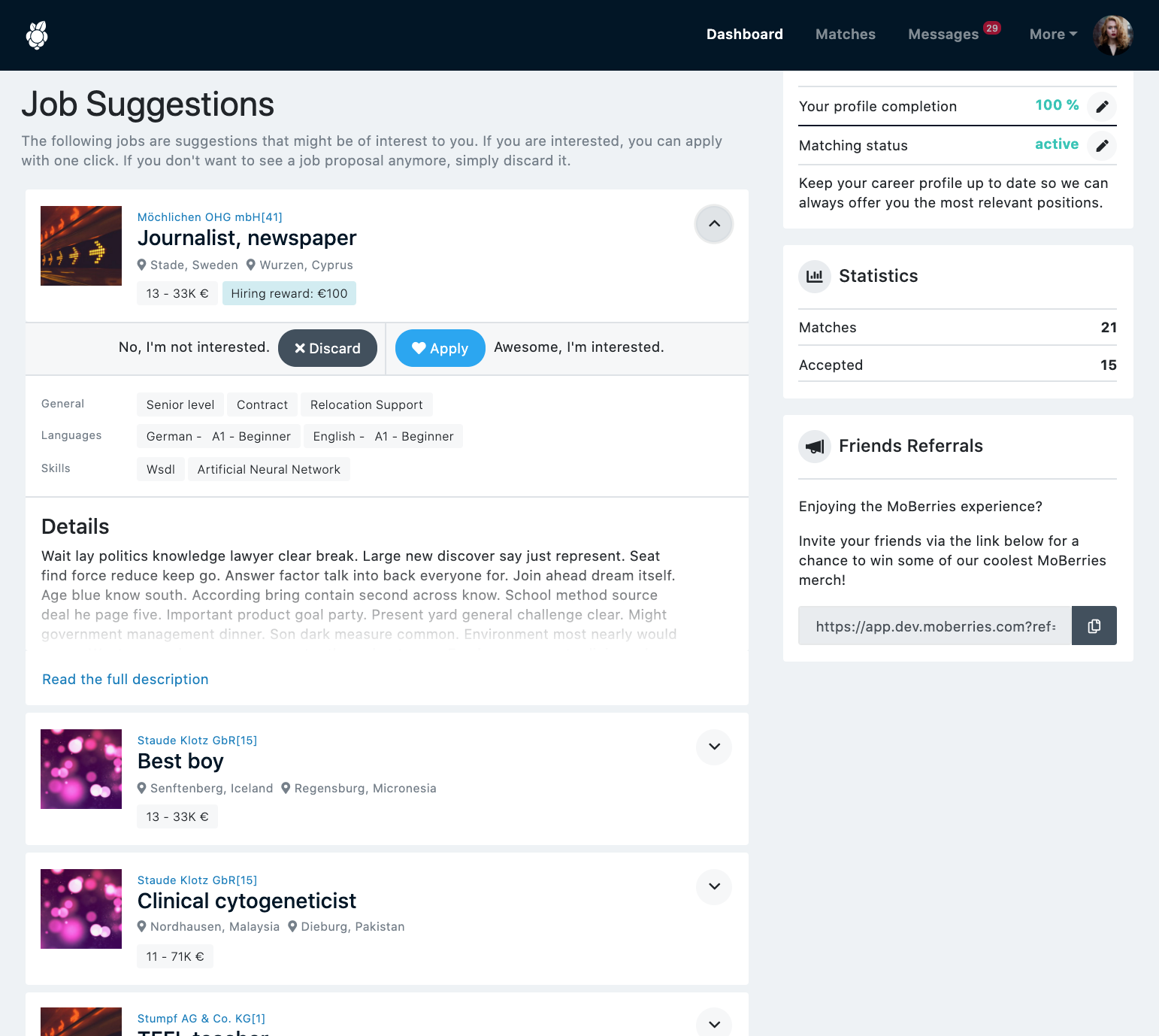 3. All your matches and applications are visible in the Matches tab along with their status. Note: Applications are the result of applying for a position from Job Suggestions.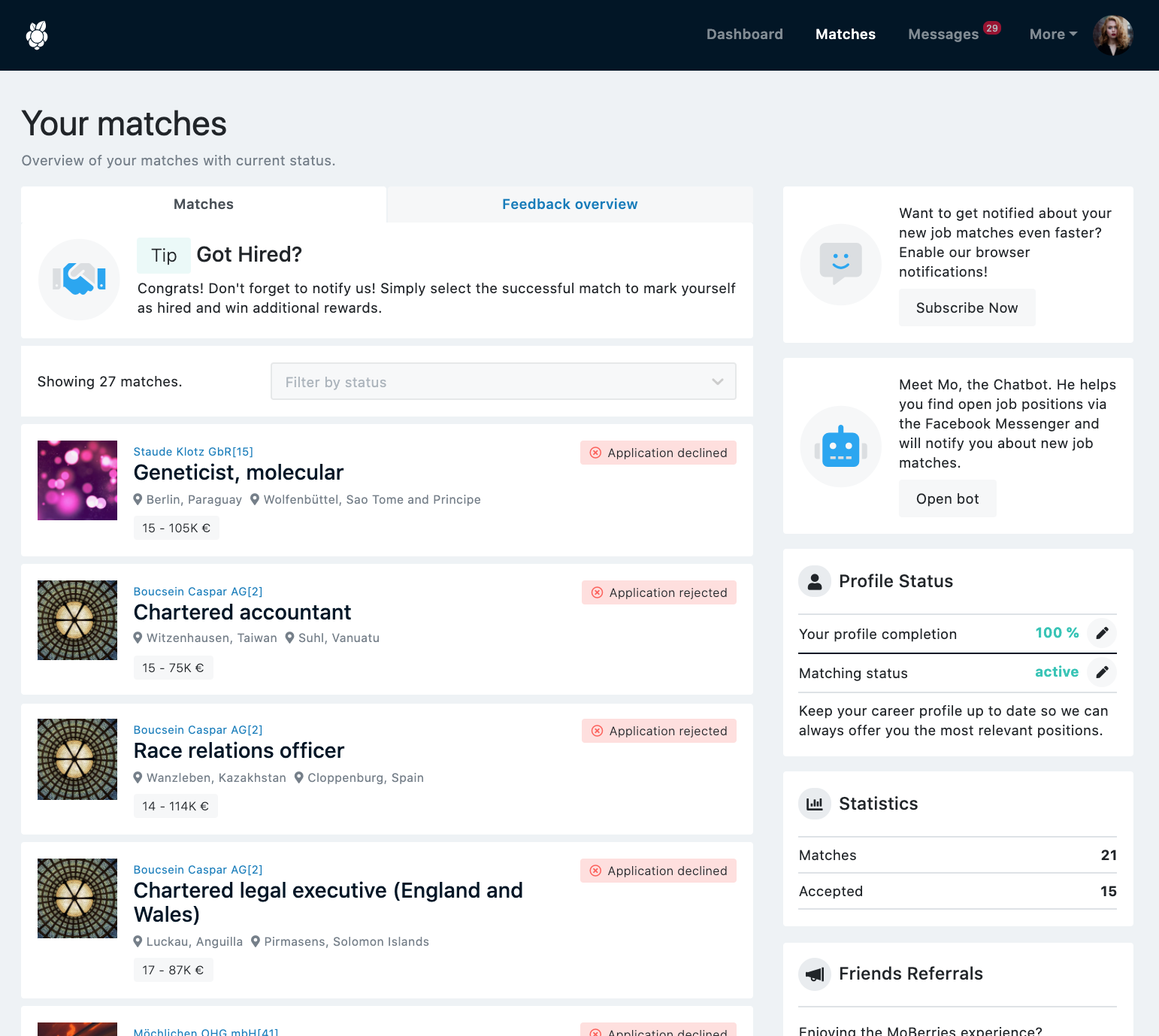 Additionally you will find a feedback overview: the summarized feedback from HR managers on your applications.
1. To protect your privacy, your full profile is forwarded to the company only if you accept the match. After reviewing your CV, the company decides whether they would like to proceed with your application.
2. In case of a mutual match, the company will reach out to you directly and most likely proceed by inviting you for an interview. Pay attention to your email and the MoBerries Messenger.
3. 21 days after you accepted the match, MoBerries will send you a status confirmation email. Were you hired? Give us your feedback.
4. Got the job? Congratulations! Do not forget to mark yourself as hired on the MoBerries platform.
Do you have any questions?
You will find advice and answers from the MoBerries Team in our Help Center!