MoBerries Job Bot Integration
Job Bot is an AI-powered HR chatbot. It helps candidates find new jobs and supports companies in hiring talent worldwide. Learn how it can help your business reach a wider audience.
How does the MoBerries Job Bot work?
Short answer — Reinforcement Learning
Job Bot learns through experience. Interacting with candidates offers it the possibility to expand its knowledge in real-time, ensuring better results for candidates.
How do candidates use the Job Bot?
Candidates interact with the Job Bot using Facebook Messenger or Telegram.
You can search for jobs in selected locations, setup personalized job alerts and apply for jobs via messenger.
Try it yourself!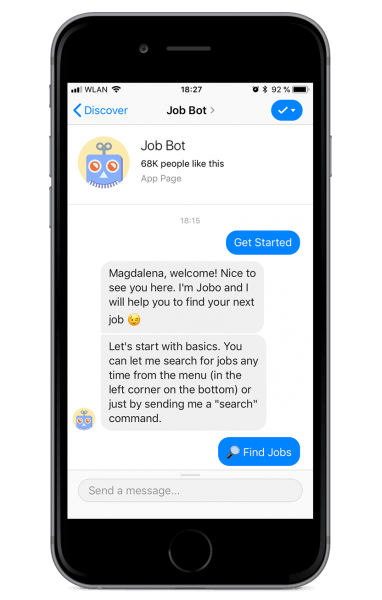 Candidate Discovery
Initiates contact with the candidates prior to forwarding applications.
Quality Traffic & Engagement
Sources candidates that are actively looking and applying for a job, resulting in higher CPQ.
Active Users
Over 900k+ monthly active users.
Any questions?
Our team will be happy to answer any questions & guide you through the process!