Find applicants online – Advisor 2023
We show you different digital ways to recruit candidates
Learn more about the pro's and con's
Find out which solution suits you
Find applicants now
Searching for employees via classic routes such as newspaper or radio advertisements is anachronistic and difficult in today's world. In order to find employees who meet their expectations, most employers are searching online. We will give you an overview of the most common tools and sites that make it easier to search for employees online and present the advantages and disadvantages of the various options.
Searching for Applicants Online: the company's own career site as a core element
Companies can post job ads on their own websites. Many large companies have an extra career website that is all about job postings. Current job advertisements are uploaded here and applicants can then find out more and apply when they visit the site. The problem here is the lack of attention that websites bring. Usually, other digital channels have a higher reach than the company site. The advantage here is that you can act very flexibly and the job postings are not associated with any costs. To reach applicants more easily, companies can use tools such as job search engines and SEO optimization (Search Engine Optimization: the optimization of website content to make it easier to find on search engines), which we discuss in more detail in the next section.
Job Boards and Job Search Engines: mostly high reach but limited filtering options
Another way to find applicants online is through job boards and search engines. These help in the applicant acquisition process by using their wide reach to play out job ads for companies. The difference between job boards and job search engines is that job boards enable companies to publish job ads directly in the job board's index and job search engines suggest jobs to potential candidates based on your criteria and keywords and then redirects applicants to the respective company's career site. Common job boards such as Stepstone and Monster offer a free job search.  Job boards are very costly and do not address a specific target group. The problem here is that anyone can apply for the job and companies have to weed out unsuitable candidates. The advantage of job boards is that they offer an enormous reach. Job search engines such as indeed allow you to upload your jobs for free, but they are only shown in the general search results and can easily get lost. To reach more applicants, it is usually necessary to run campaigns on jobs. These campaigns usually turn out to be very cost-intensive and do not guarantee the desired outcome. A small overview of the most common job boards and job search engines and their advantages and disadvantages can be seen here:
- Multiposting on many small job platforms
- International job board
- Easy to use and offers a mobile app
- Enables active sourcing
- Predefined terms for job postings
- High costs for job postings
- A confusing choice of pricing models
- Attractive for freelance, contract, and part-time job searches
- Has a mobile app
- Has a good overview and is easy to operate
- Too wide a range of applicants
- No free job ads
- Fewer job filters than with common job boards
- No employer profiles
- High reach through good SEO optimization
- Job ads on Indeed are basically free of charge
- Extensive job filters
- Without a campaign, the visibility of job postings is low 
- No management of individual job advertisements only reference to the career page of the respective company
- Competition is very high
Social Media Recruiting - finding applicants online on LinkedIn and Co.
Social media recruiting offers another option. Social media recruiting means that companies specifically search for employees via social media platforms and publish their job advertisements there. The greatest advantage of social media recruiting is the precise approach to younger target groups because young professionals in particular can be better and more specifically addressed through this type of applicant acquisition. Social media recruiting also offers applicants the opportunity to combine job search and company information. With a simple click, you can find out which company is behind the job ad and get information about it quickly and easily. In addition, applicants can contact companies very easily via social media. These aspects all contribute to the appeal of social media channels as recruiting tools.
Online employee search via social media is a good way to intercept passive candidates who actually use these channels with a different initial intention. 7 out of 10 of the top 1,000 companies in the IT industry rate the use of social media applications in recruiting as positive, according to a study by the University of Bamberg.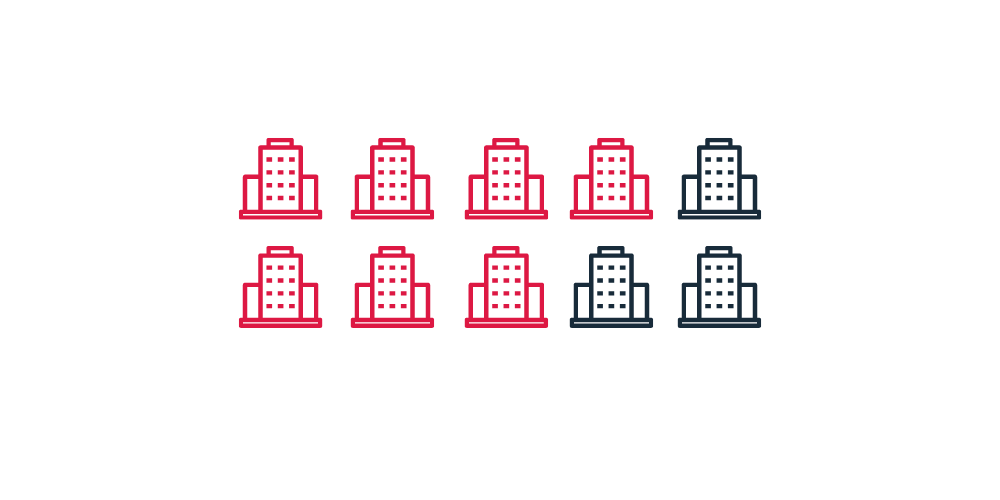 Companies are now actively using LinkedIn, Facebook, et al. to search for employees. We show you the advantages and disadvantages of the most popular platforms in terms of the recruiting opportunities they offer:
- Platform and community are business-oriented
- LinkedIn job postings are basically free of charge
- Also suited for the international job market
- Enables active sourcing
- Direct access to company information
- Building a large reach is more difficult than on other platforms
- Job postings go down without paid boosts
- Not suitable for jobs with niche character
INFO:
What are jobs with a niche character?
It describes jobs that are searched in specific industries with small size. Often the requirements are very specific and the volume of candidates is lower than for common jobs.
- Most popular platform in Germany in terms of information search and image advertising
- Wide reach 
- Facebook job postings are basically free of charge 
- Allows passive candidate acquisition
- Business pages can leverage and expand their reach by posting jobs in their feeds
- Specific target groups are difficult to reach
- A lot of competition, job postings go down without paid campaigns
- Largest career network in the DACH region
- Jobs are optimized for Google
- Xing job postings are directly on the home page
- Possibilities to target local talent via zipcode filters
- Focus on German-speaking jobs
- Employee search via Xing creates costs for job advertisements
- No cost 
- Hashtags can give the job posting more reach
- Passive candidates can be addressed
- Job posting reach is dependent on account reach and without reach, the company must run paid Twitter campaigns
- Not a specific platform on which candidates actively search for a job
- No cost and limit for job postings
- Many features (stories, posts) to create and host job postings
- Passive candidates are reached
- No specific platform on which candidates actively search for work
- Building organic reach for job postings is time-consuming
- For a good reach, paid advertising campaigns often have to be placed
Active sourcing describes active writing and searching for suitable candidates for advertised positions. Active sourcing is increasingly shifting to the digital realm, as job fairs and career events are losing their appeal due to the pandemic and can now no longer offer the same reach as online platforms and talent pools.
More and more job boards are offering a model that allows recruiters to search the database for suitable candidates themselves. This allows recruiters to target profiles that perfectly match the job description. Of course, active sourcing - which consists to a very large extent of interactions with applicants - involves more effort than other forms of applicant acquisition. Tools that automatically send pre-written messages to applicants can help. However, this type of applicant approach can also act as a deterrent, as applicants often recognize that these are template messages. This in turn means the aspect that makes active sourcing attractive to companies and applicants is lost: the targeted and direct approach. External headhunters are people who take on this task for companies and search for suitable candidates. If you have a human resources department that works with active sourcing, you have to train them sufficiently, because without the right approach you usually don't awaken interest in the candidates. Employer branding plays an important role here because an appealing company profile can decisively influence the candidate. It is the first impression that the candidate will get and this should be emphasized.
Another possibility is talent pools, with the help of which you can build up your own database of quality applicants. In order to use this type of active sourcing, you must first of all own a talent pool or have access to one. However, filling and maintaining an internal talent pool requires a lot of effort, but it also provides added value. Building a talent pool definitely pays off in the long run.
What is the best way to find employees online? General statements are difficult to make and each company must decide for itself which model best suits its needs. It is also possible to use several models at the same time - as is common in many larger companies - but here the two parameters of budget and effort are decisive factors.
MoBerries combines the advantages of the different models. Our algorithm brings together companies and candidates that fit. This makes the time-consuming process of sorting out unsuitable candidates a thing of the past. In addition, it is possible to build up a talent pool with MoBerries in order to stay in contact with quality candidates that could be used to fill future vacancies. This makes the search for employees easier and the company builds up a pool of applicants, which can significantly minimize both the costs and the time required for recruiting.