Monetization
Automatically nurture & manage your own talent pool
Save time on sourcing through smart pooling
Build private pools of partner companies to hire at no cost
START YOUR OWN TALENT POOL NOW!
Smartpooling
Nurture unhired candidates by letting them opt into MoBerries live pool and set up private pools of partner companies to identify and hire suitable candidates faster at no extra cost.
Monetize your employer brand
Offer excess candidates you have attracted a way to discover unique job opportunities and earn points you can apply towards reducing recruitment costs.
Save time
Companies constantly recruiting reported an up to a 30% reduction of time to hire.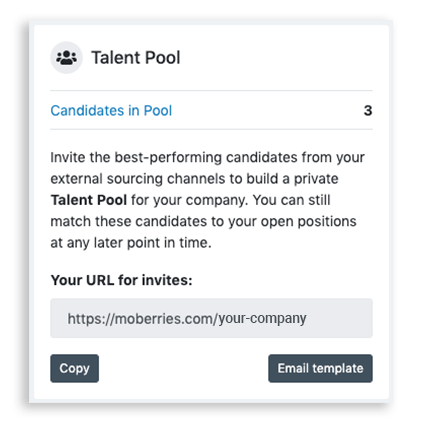 You will find your personal referral link and the corresponding template in the dashboard of your account.
Include your referral link in your communication to your unhired candidates.
Every candidate who now signs up on the MoBerries platform via your link generates you points should they receive interviews and be hired.
Utilize the monetization to draw down recruitment spend.
For best performance recommended to include the referral link as a hyperlink.
Contact us via e-mail at am@moberries.com for a potential savings quote.
Integrations
Use MoBerries in your Applicant Tracking System