Your advantages with the MoBerries Talent Pool?
Performance
Invite non-hired candidates to your own talent pool and gain insights into their performance in order to come back to them to fill future positions.
Employer Branding
Offer your non-hired applicants the opportunity to discover many more jobs within the MoBerries network, by simply embedding your personal talent pool link. This will strengthen your employer branding at no additional cost.
Timesaving
Use your MoBerries Talent Pool to fill your future positions with applicants you already know from previous job interviews.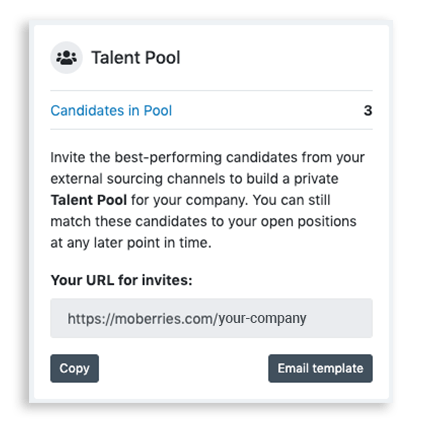 You will find your personal referral link and the corresponding template in the dashboard of your account.
Include your referral link in the e-mails to your non-hired candidates.
Every candidate who now signs up on the MoBerries platform via your link is immediately joining your Talent Pool.
Integrations
Use MoBerries in your Applicant Tracking System