Integrate with Prescreen ATS
Connect your MoBerries account to Prescreen ATS
Requirements: In order to activate the integration, you will need to create or access an ID number: your Rest API key.
Important: You can only access / edit your API code with an admin Prescreen account.
1. To acquire your Rest API Key, go to the Configure tab (the gear) and select Integrations and Rest API.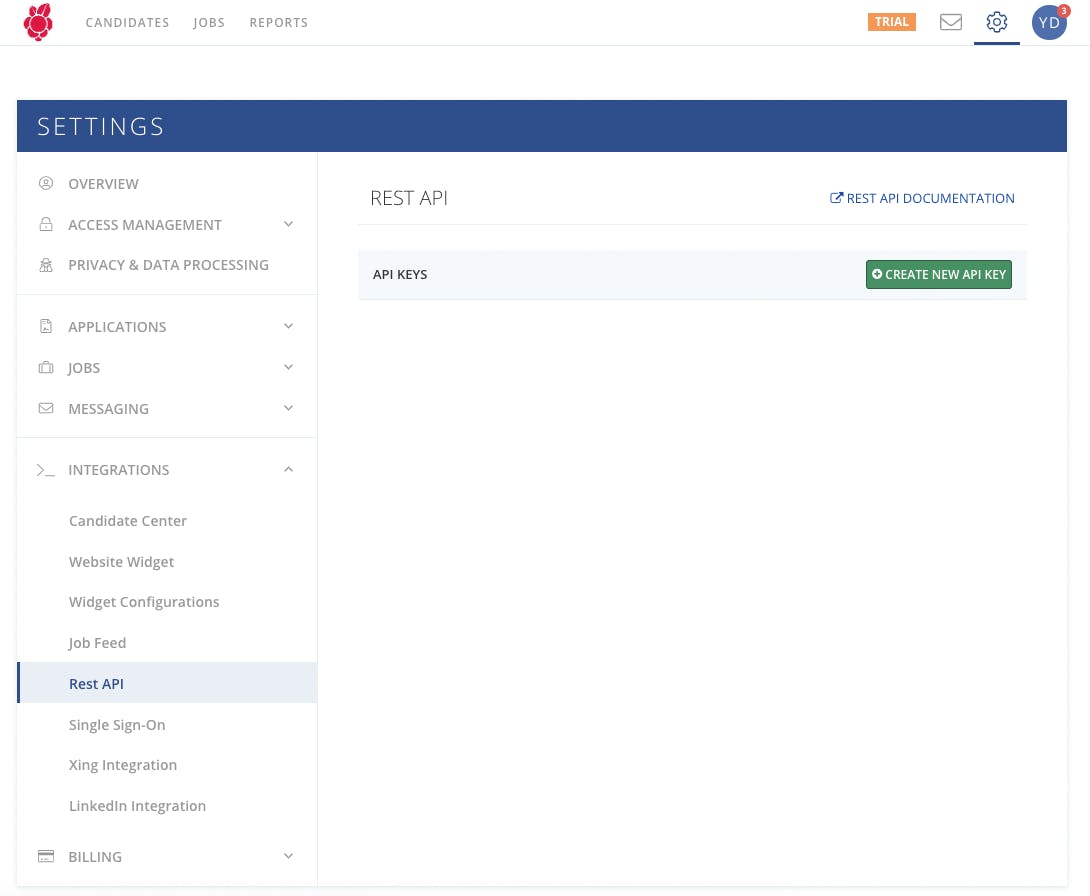 2. In Integrations you can access or create your Rest API Key. When you create a new key, you will be redirected to the API Key Permissions. Please select the following permissions:
Candidates:
can read candidates.
can insert candidates.
can update candidates.
Applications:
can read applications.
can insert applications.
Jobs:
Specify a name for your Rest API Key and press Save button.
3. Your Rest API Key is ready to use. Copy the code from the Rest API window.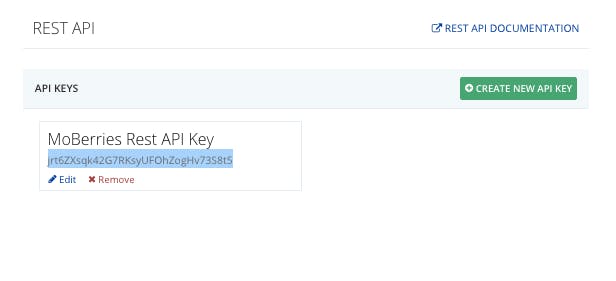 4. Head over to the Integrations page on MoBerries under "available integrations", select Prescreen on the list of available ATS integrations. On the page with Prescreen ATS details simply click on "Connect now".
5. On the "Connection settings" page paste Rest API Key and click on "Connect" button.
6. Click on "Applications" in the settings menu and then on the "Candidate Tags". Add a new tag with the tag name "moberries" to enable tracking of your MoBerries candidates.

7. On the next step you will see the page "Integrations options" with available options for Jobs Import and Applications export. Please select needed options that fit your hiring needs.
Jobs import - You can decide to import the jobs manually one by one or activate automated synchronization with your primary recruiting tool.
Please note: In order to import jobs from Prescreen to MoBerries, your job posting needs to exist on Prescreen, be active, and be published on the Candidate center.
Application export - The main benefit of having the ATS integration is the automated export of the candidate profiles to your primary recruiting tool. MoBerries will push the application data including candidate's CV and additional metadata into your ATS. Receive your candidates after accepting them on MoBerries or export all your pending applications directly to your ATS.
Depending on your subscription model and your needs now you can customize your ATS integration by selecting the most convenient flow for managing your job positions and applications. Find more information in Integrations Guide.
Contact us via am@moberries.com in case of further questions or if you need assistance with connection to your ATS.
Easily share non-MoBerries candidates
Help our system learn about your hiring preferences by sharing your not hired candidates.
Head over to your Prescreen account and go to Configure (the gear icon) > Messaging > Message Templates.
Either add a new template (+) or adjust an existing one.
Paste your personal MoBerries referral link. You can find your link in your MoBerries Dashboard on the right hand side Your URL for invites.
Your template is ready to be shared! Thank you!