Prescreen Integration Guide
Our guide to integrating MoBerries with your Prescreen system.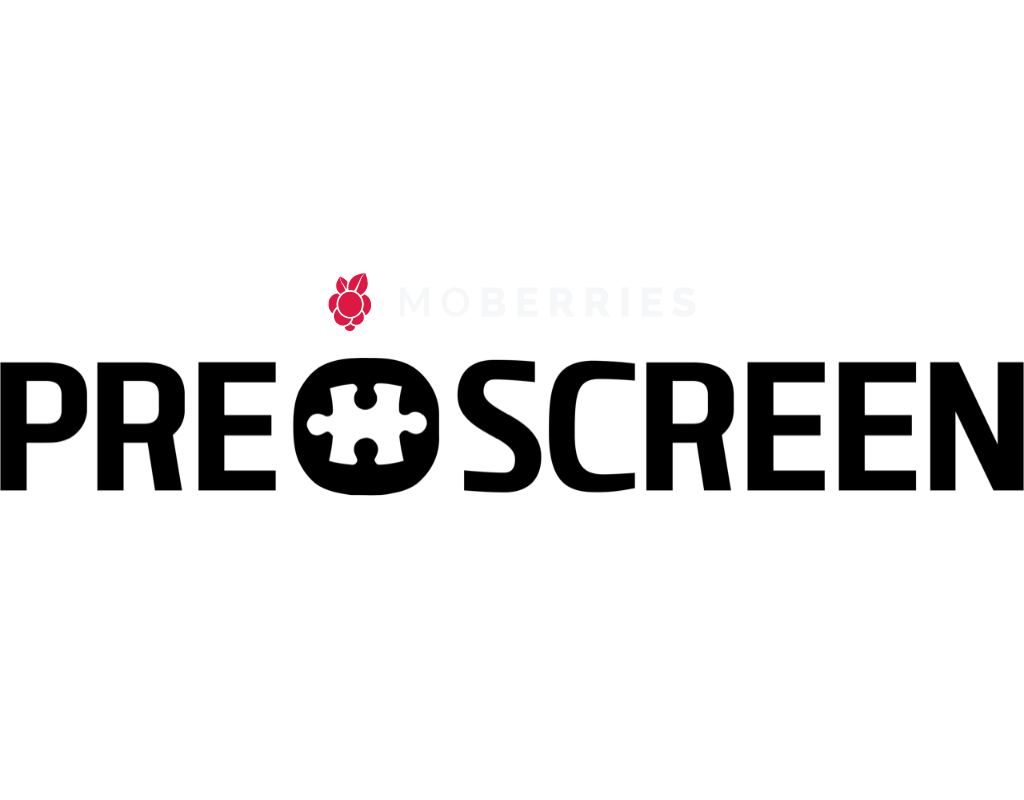 1. Connect MoBerries to Prescreen
Requirements
To activate the prescreen integration you must first create an ID number or use an existing ID number: Your Rest API Key. 
You can only access or edit your API code with a Prescreen administrator account.
Step1: Connect MoBerries with Prescreen
Go to your MoBerries account > More > Integrations > select Prescreen.
Then you need to the Rest API Key. In the following steps, we will explain how to find it in your Prescreen system.
Step2: Find the Rest API in Prescreen
To access your Rest API key, go to the Configuration tab (the cog) > Integrations > Rest API.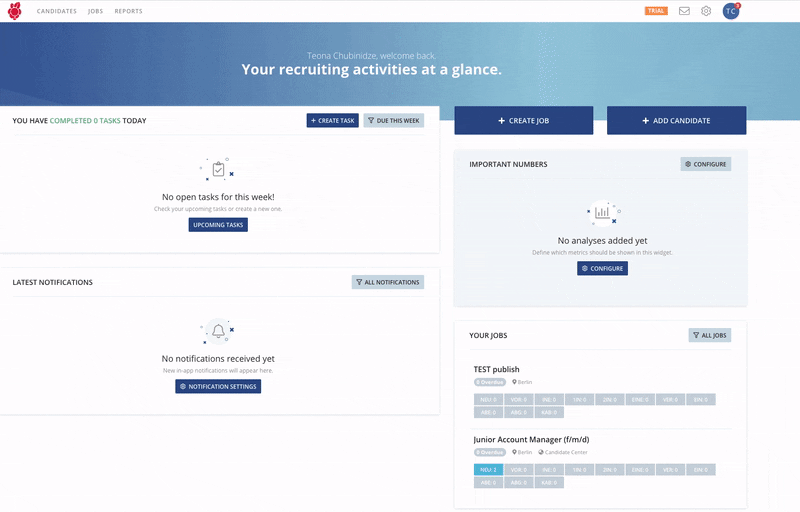 Step3: Create a new API key in Prescreen if it does not exist.
On the integration tab, you can create and edit your rest API Key. When you create a new key you will be automatically redirected to your API Key settings. Please select the following settings here:
Candidates: 
can read candidates
can create candidates
can edit candidates
Applications: 
Can read applications
Can create applications
Jobs: 
Enter a name for your Rest API key (usually your company name) and the report name, and press the Save button.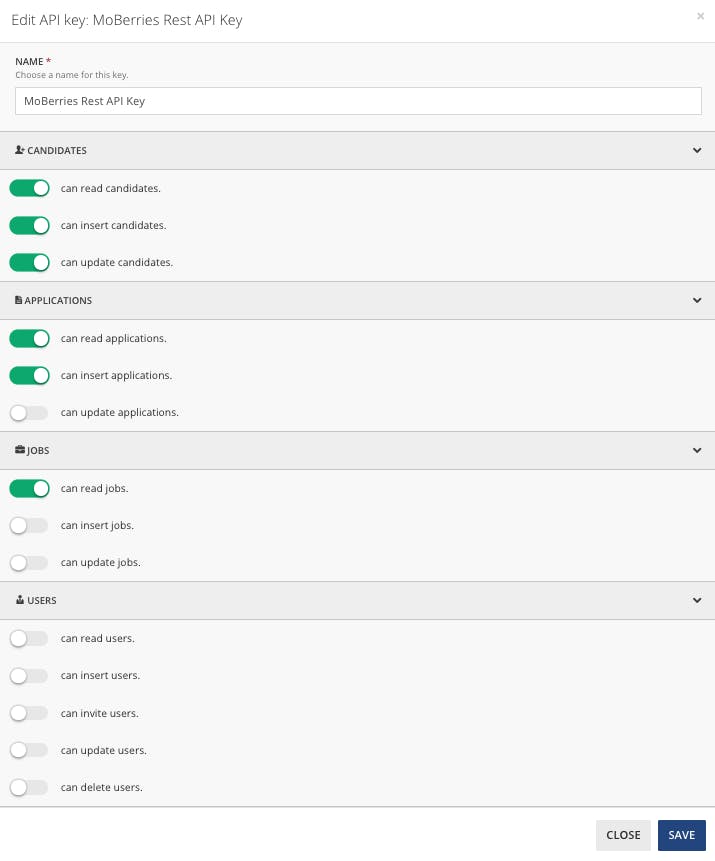 Step4: Insert Rest API Key into MoBerries
Your Rest API Key is now ready. Copy the link from the Rest API window as described in the first step.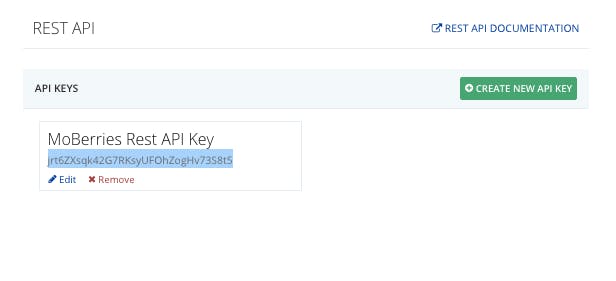 Now go to the Integrations page on MoBerries and select Prescreen from the list of possible ATS integrations under "Available integrations".
In the Connection settings section, enter the rest API Key and click on the "Connect" button.

Step5: How do I activate job postings and publish them in the Candidate Center?
Go to your Prescreen account, click Applications > Application Settings > Candidate Tags in the settings menu. Add a new tag called "MoBerries" to enable tracking of your MoBerries applicants.
You can then publish the jobs to the applicant center.
2. Select Job Import and Application Export
a. Job import
As a next step, you should select the integration settings.
For a successful integration, please make sure that your job postings exist on Prescreen.
b. Applicant export
The main benefit of having the ATS integration is the automated export of the candidate profiles to your primary recruiting tool.
MoBerries will push the application data with candidates' CVs and additional information into your ATS.
3. The workflow after setting up the integration
A. What happens to the jobs that I import to Moberries from Prescreen?
After connecting Moberries to your ATS, your jobs are imported in Jobs > Draft View. From here, you and your team members will have the possibility to review and fill in missing information and activate the position at any time.
b. Payment Model
During the activation process from Jobs > Draft View, you can opt to either activate the job within your Subscription or through our Pay per Hire Model. If you do not use our Subscription model, our Pay per Hire model will be the default option.
c. How can I deactivate the integration?
To disable the integration, log in to your MoBerries Account, go to More > Integrations, and click on Prescreen > Disconnect.
4. Simply recommend non-MoBerries candidates to others
Help our system learn about your hiring preferences by sharing your not hired candidates.
Head over to your Prescreen account and go to Configure (the gear icon) > Messaging > Message Templates.
Either add a new template (+) or adjust an existing one.
Paste your personal MoBerries referral link. You can find your link in your MoBerries Dashboard on the right-hand side Your URL for invites.
Add your personal MoBerries referral link to your email template. You can find this on the right side of your MoBerries dashboard at " Affiliate App".
On the Affiliate App dashboard, you can copy your referral link on the right side.
Your template is ready to send! With every referred candidate you have the opportunity to lower your costs on MoBerries.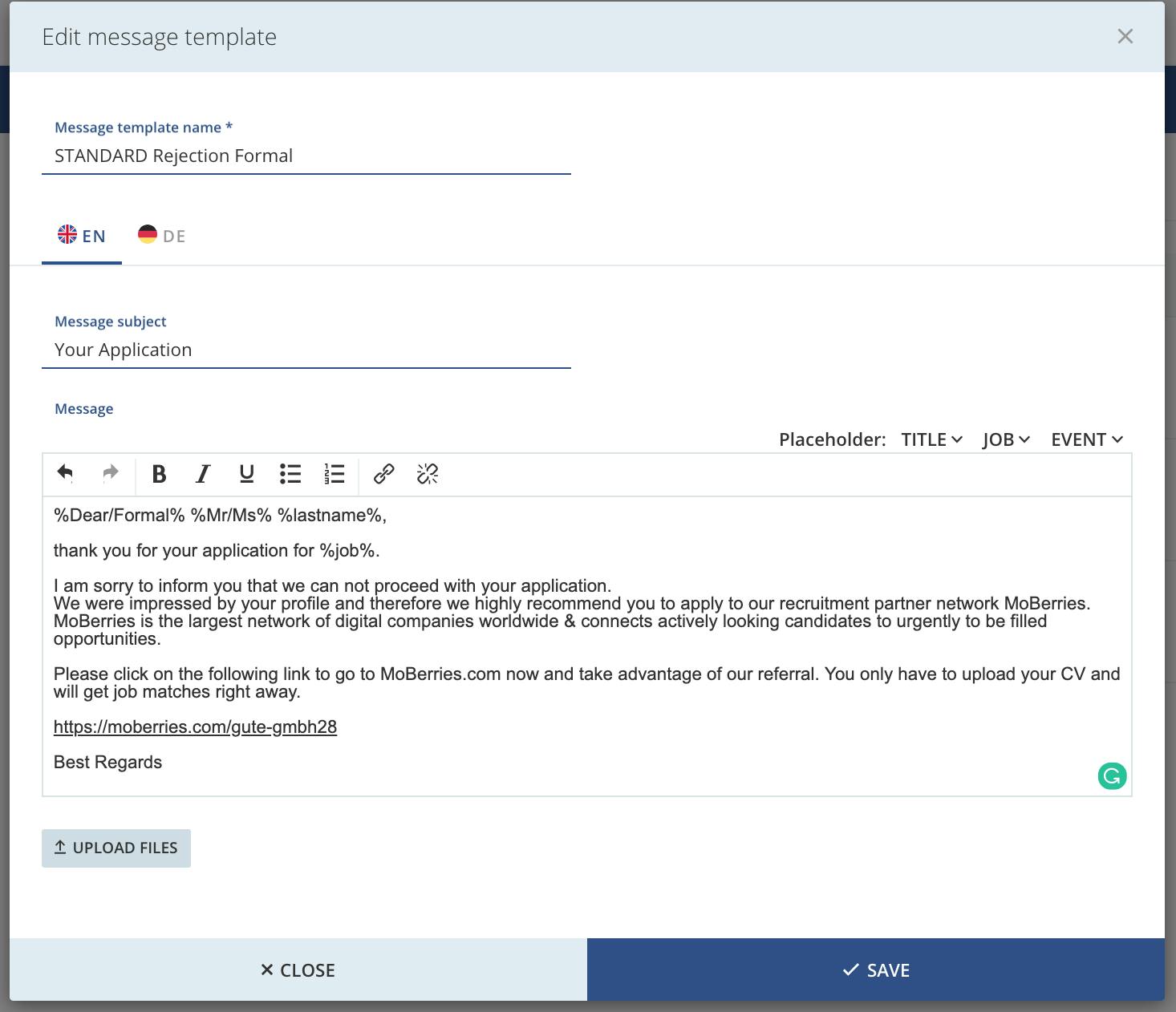 Referrals are part of our Monetization-Feature and allow our partners to draw value for the company and the screened candidate.
Do you have any questions?
If you still have questions, don't hesitate to contact your partner manager via partners@moberries.com! In addition, you will find more information in our FAQs.