We always want to be up to date for our partners and customers. So MoBerries constantly gathers insights into common recruiting strategies, performance benchmarks within our industry, and new trends in the labor market. Until now, MoBerries Customer Service has provided this information as part of the customer consultation process.
As an extension of the new Analytics feature, MoBerries has now introduced the 'Industry Benchmarks' that provide insights into how our partner companies perform on our platform. Our goal with this feature is to give companies an overview of current industry standards and provide the data they need to improve their recruiting processes to be competitive and help them attract more talents in the long run.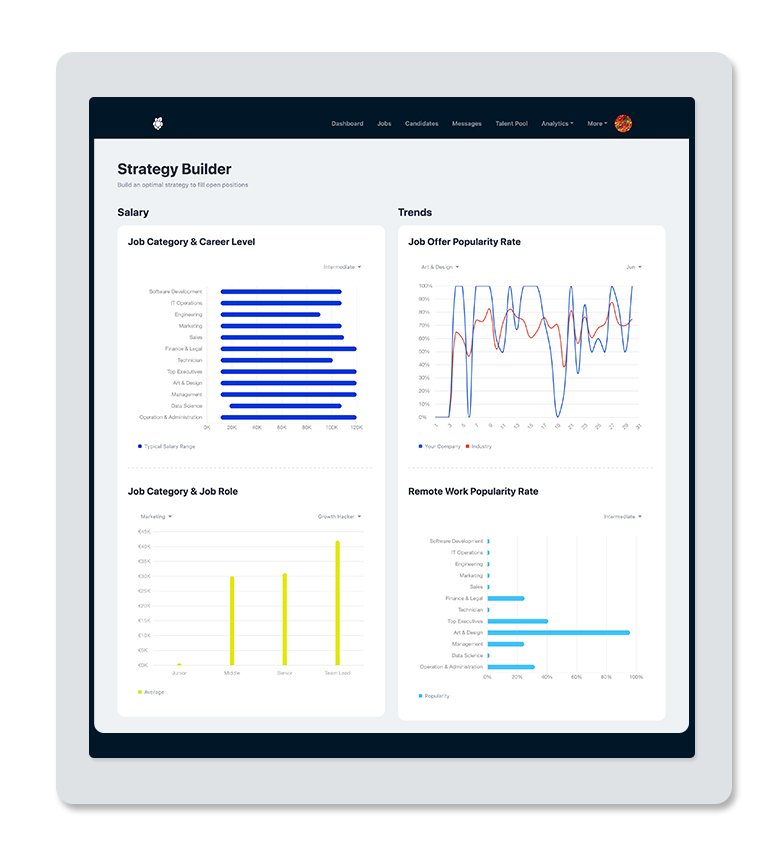 Working with our clients' recruiting teams, MoBerries has identified some key issues that will help companies effectively optimize their hiring strategies:
Salaries
What salary range do competitors offer in each job category?
MoBerries provides employers with the standard salary range for each industry to give insights into a typical salary in each category. So companies can have an overview of the salary projections for each job category in the market. That helps to understand the market value of a candidate before advertising the job on the internet.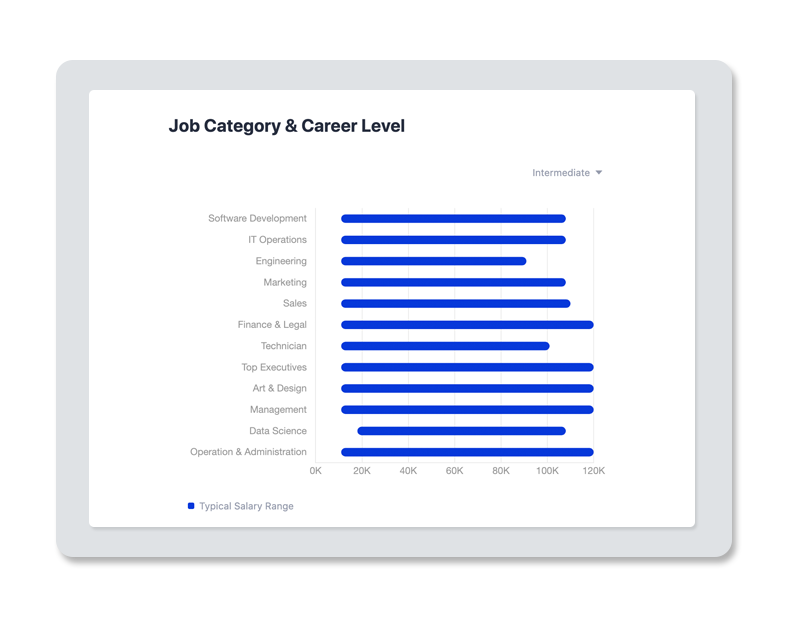 What is the average salary offered by competitors for each role?
MoBerries provides companies with an average salary range based on the industry benchmarks so that they can make adjustments to their salary expectations for every category and make the job more attractive, e.g. by paying above average.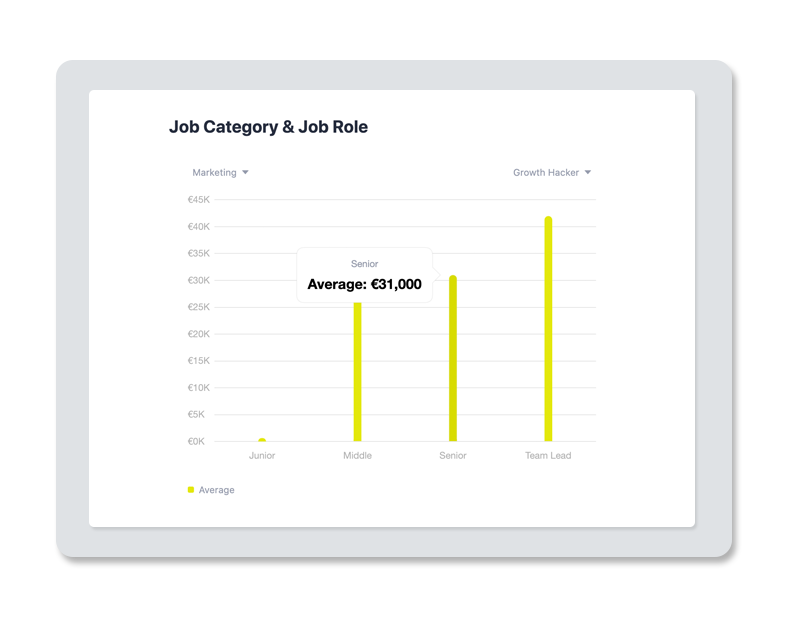 Compare industries
The popularity of job offers: Here MoBerries compares the popularity of job offers with the competitors and measures the approval rate of candidates and the approval rate of companies in similar industries. This information can help revise their strategy and show them where it might need to change. An example would be a company that only offers 50% remote work and only average pay, seeing that other companies in the industry are doing better with remote first and higher payment. As a result, the company agrees to adopt these aspects to the industry, resulting in a higher applicant in-flow. 
In the first feature blog, MoBerries showed how to use the Analytics Dashboard to improve the candidate outreach.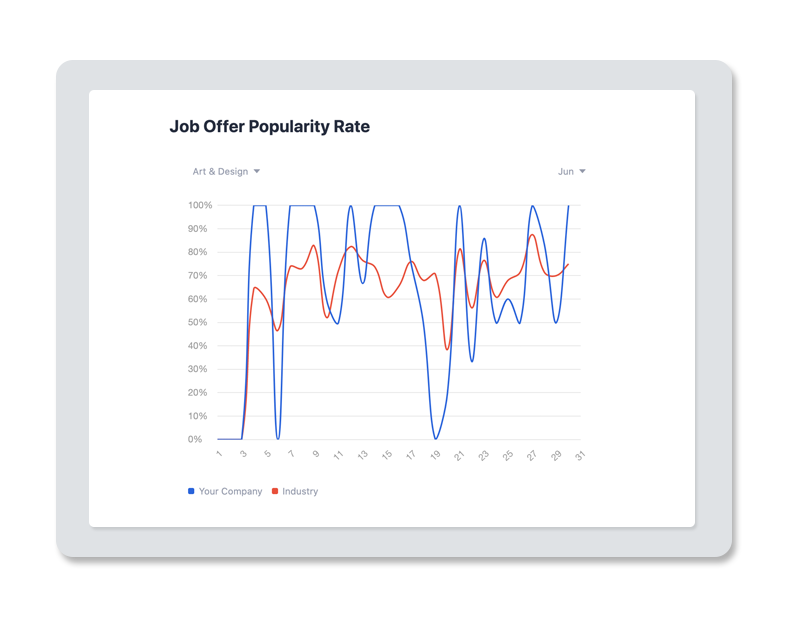 The popularity of Remote Work: MoBerries presents companies with the availability of remote work options in individual industries. The popularity rate shown below helps companies to decide whether to offer a remote work option in a particular area, as it is often difficult to analyze if remote work makes sense for a specific job.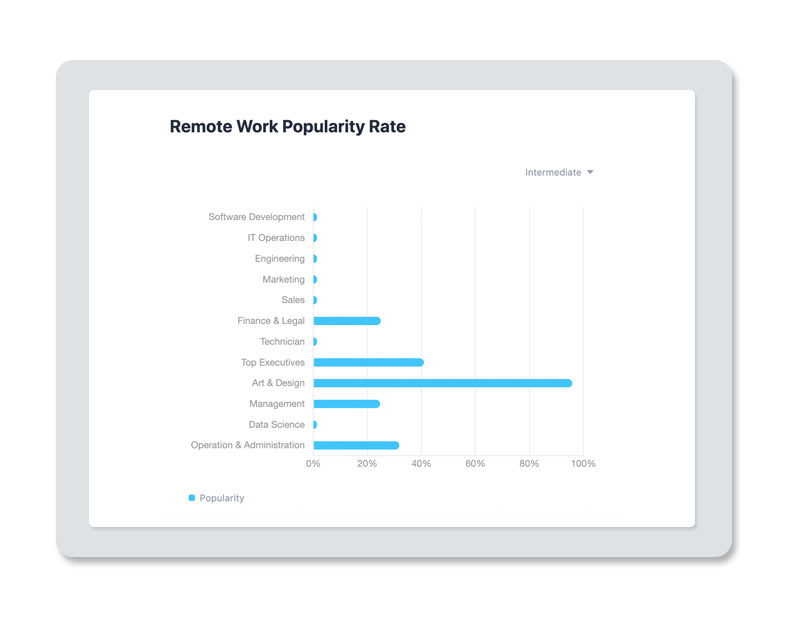 In the future, we also want to provide our customers with more exciting insights into important analytics that help you target talent more effectively. Our team is working to provide companies with data that shows how your profile is perceived by others. 
You can easily register for free to take advantage of MoBerries' data-driven talent platform. Simply upload job openings and get started. Best of all, in our Pay per Hire model, you don't pay until you hire successfully. Find suitable talents for your job postings with MoBerries.