Let's get started with your MoBerries account
Learn how to create & efficiently use your MoBerries account.
First Steps
01
Set your profile up
Register and fill in the required information. Our team will then reach out to you with further information and set you up. You will receive your activation link via email which you can use to set up your password.
02
Chose payment plan
You can now decide between a subscription and our pay-per-hire model. Our service team will be happy to advise you at any time and recommend the right model for you.
2. How does MoBerries work?
Your jobs are displayed solely to relevant candidates. A candidate will only be proposed to you after they accepted the match with your open position. For more detailed information on our matching, have a look at how our matching works.
Review Candidates
Within your candidate overview, click Review Now to view the candidate profile. Here you can see an overview of the skills that the profile possesses. Green marked are skills that the candidates own and that is required. Grey highlighted are all skills that the applicants additionally bring along. The skills and preferences highlighted in red indicate a mismatch between the candidate profile and the requirements of your open position. Click on the Preview CV button to view and download the CV.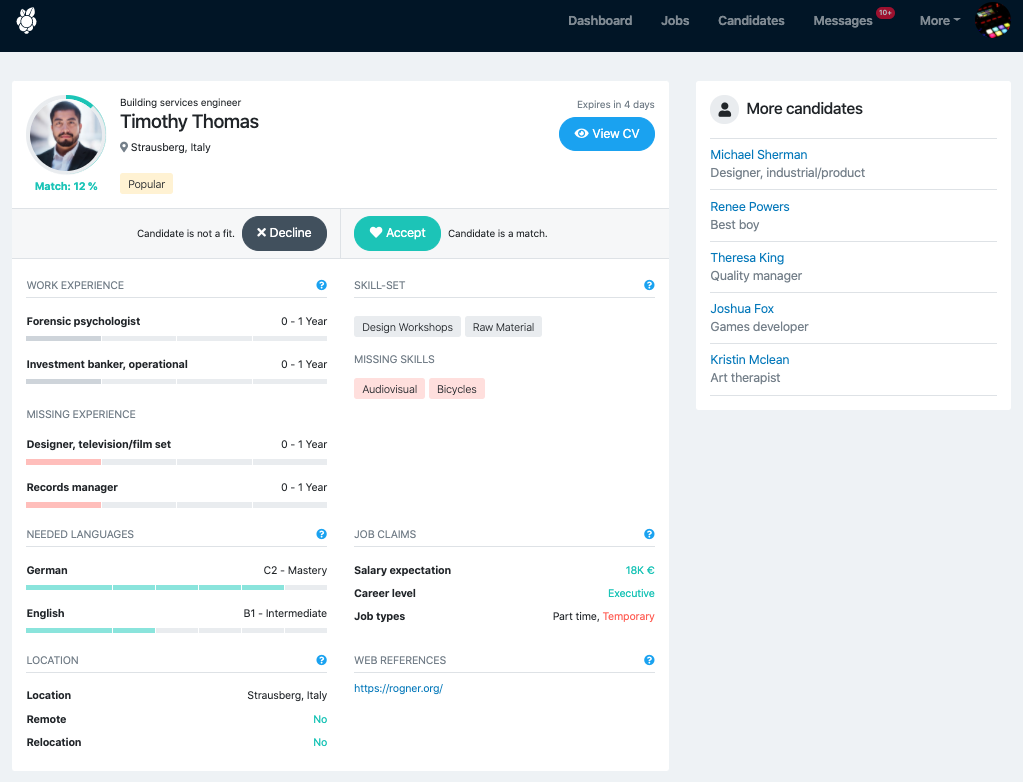 Decline candidates and feedback
If the candidate does not meet your requirements, click Decline.
You will then be asked for feedback as to why. Your feedback will help our algorithm to learn more about your preferences and further increases the future match accuracy for your jobs. The candidates will not receive your feedback directly but in an anonymous summarized form. You can find further information on this under Extended Feedback.
Accept Candidates
If you feel like a candidates' skills match your requirements and you want to get to know them better, click on Accept. You now can send the candidate a message directly on our platform through our MoBerries chat or via email. The candidate can then be found under the tab "Candidates".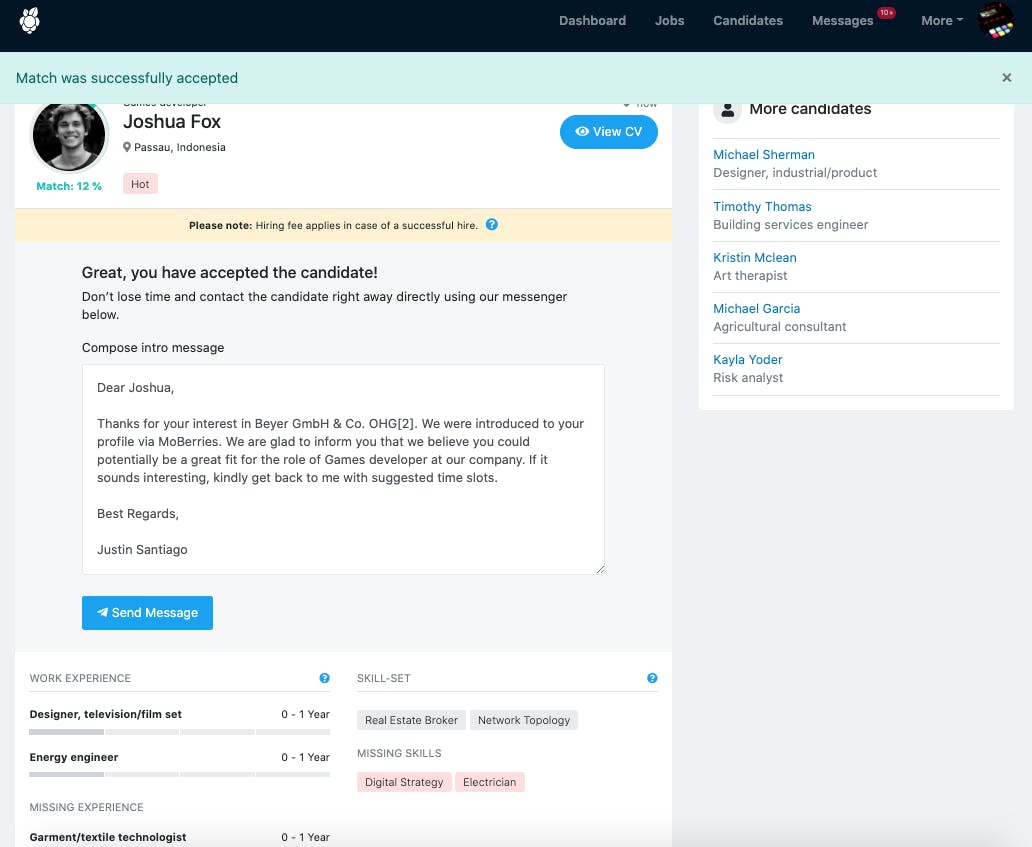 Under the tab candidates, you can find all your accepted candidates. Here you can also write them a message through our MoBerries chat, change their status to "Rejected" or "Recruited" and revisit the profile including their CV.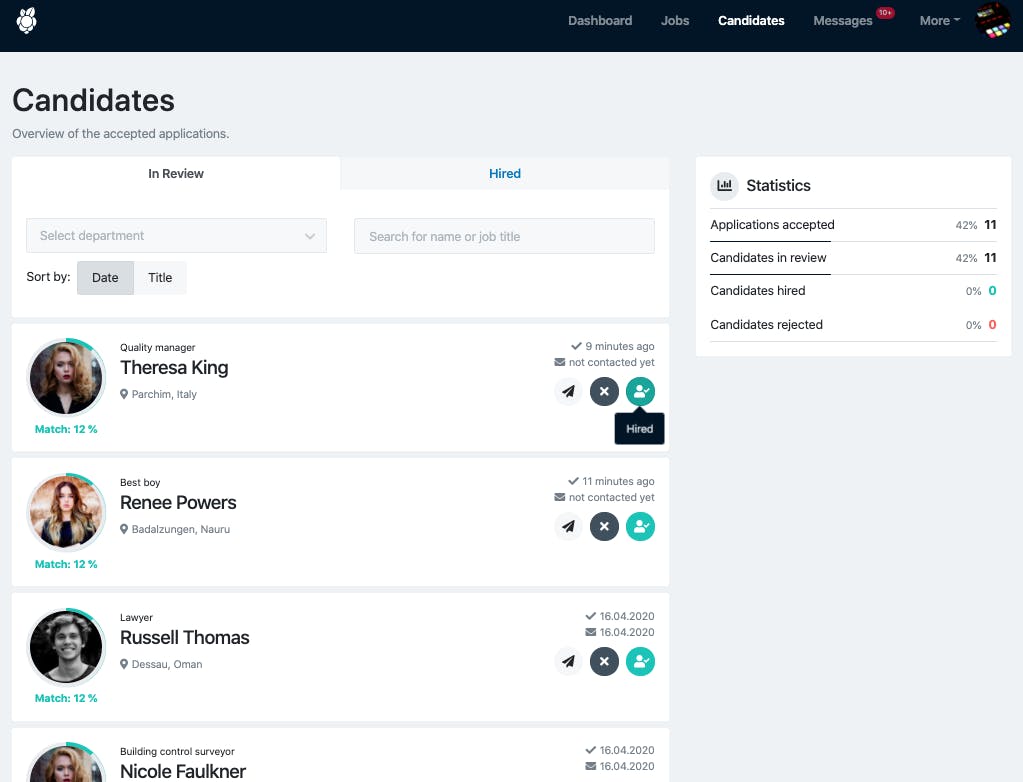 Tip: Maintain the Candidate Overview regularly to keep an up-to-date overview. As soon as a candidate is no longer in your application process, simply click on the grey button with the X on it. If you have successfully hired the candidate, click on the green button with the tick.
Messenger
Use our Messenger to get in touch with candidates and schedule an interview.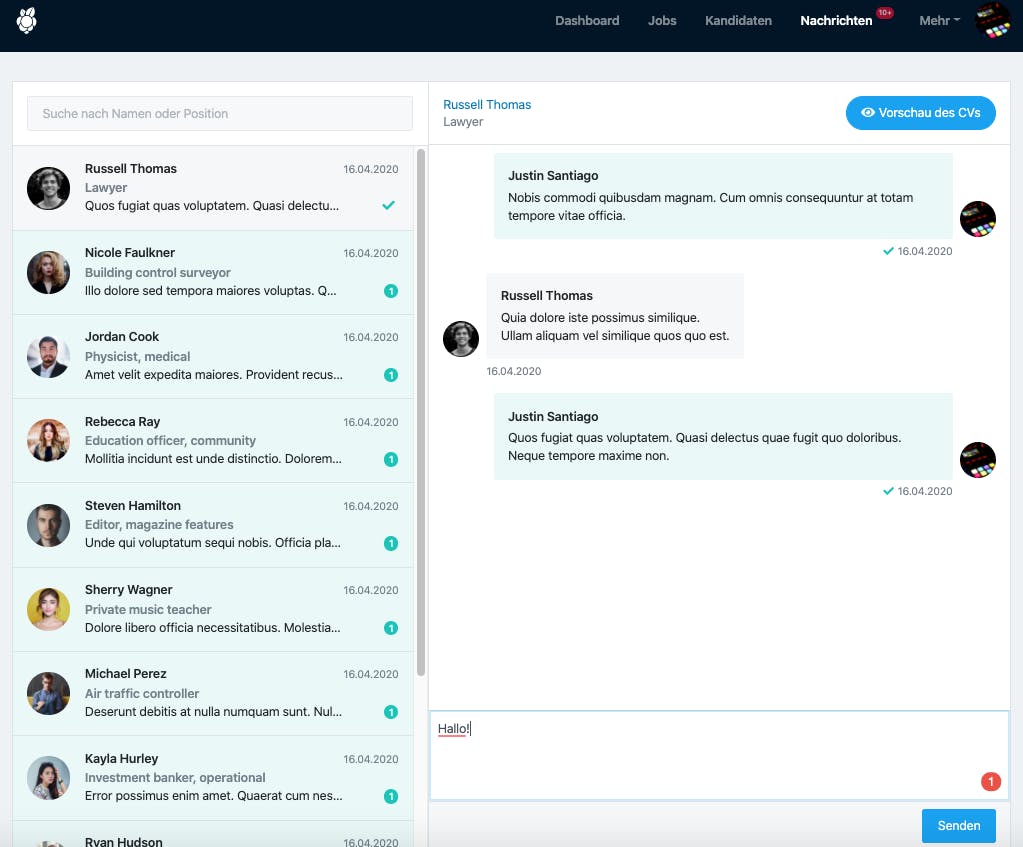 3. Create your job posting
1. Go to the tab Jobs and click +Create Job. Enter the job title and the job description.
2. After you clicked on Next, our algorithm will fill out further details according to your specified preferences. You can then edit these details. Learn more about our meta-predictions.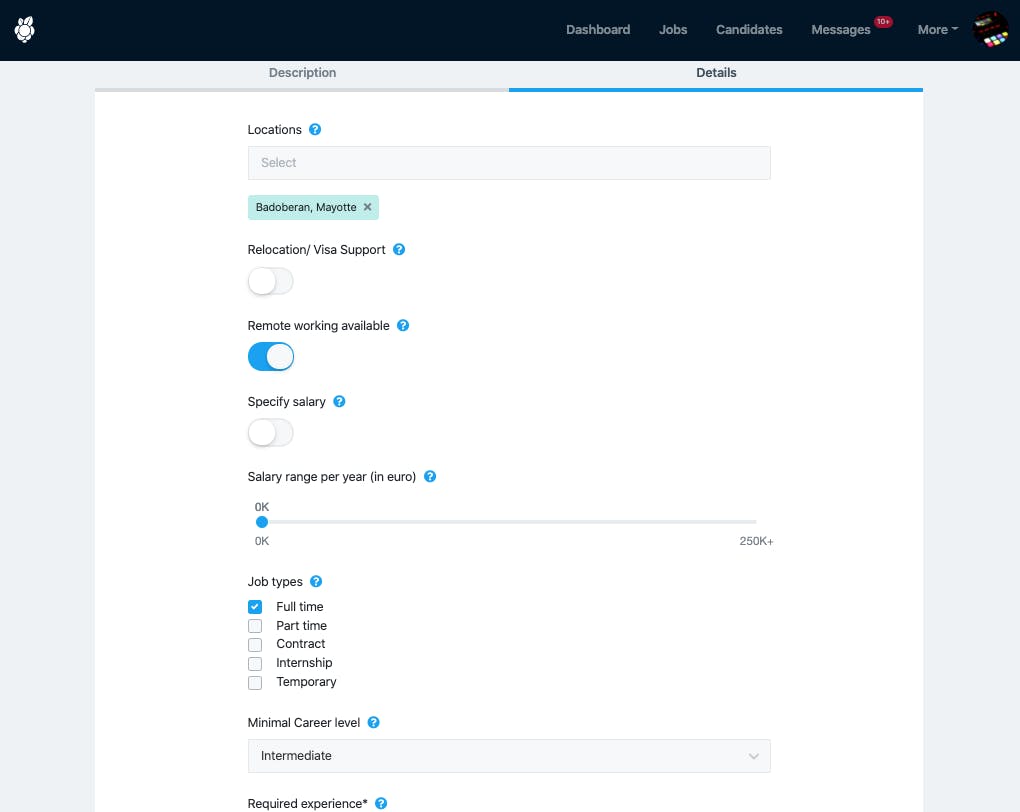 4. Create your MoBerries Talent Pool
Invite non-hired candidates to your own talent pool and gain insights into their performance in order to come back to them to fill future positions.
On the dashboard of your account, you will find the redirect to the Affiliate App.

In the affiliate app, you can copy your personal referral link.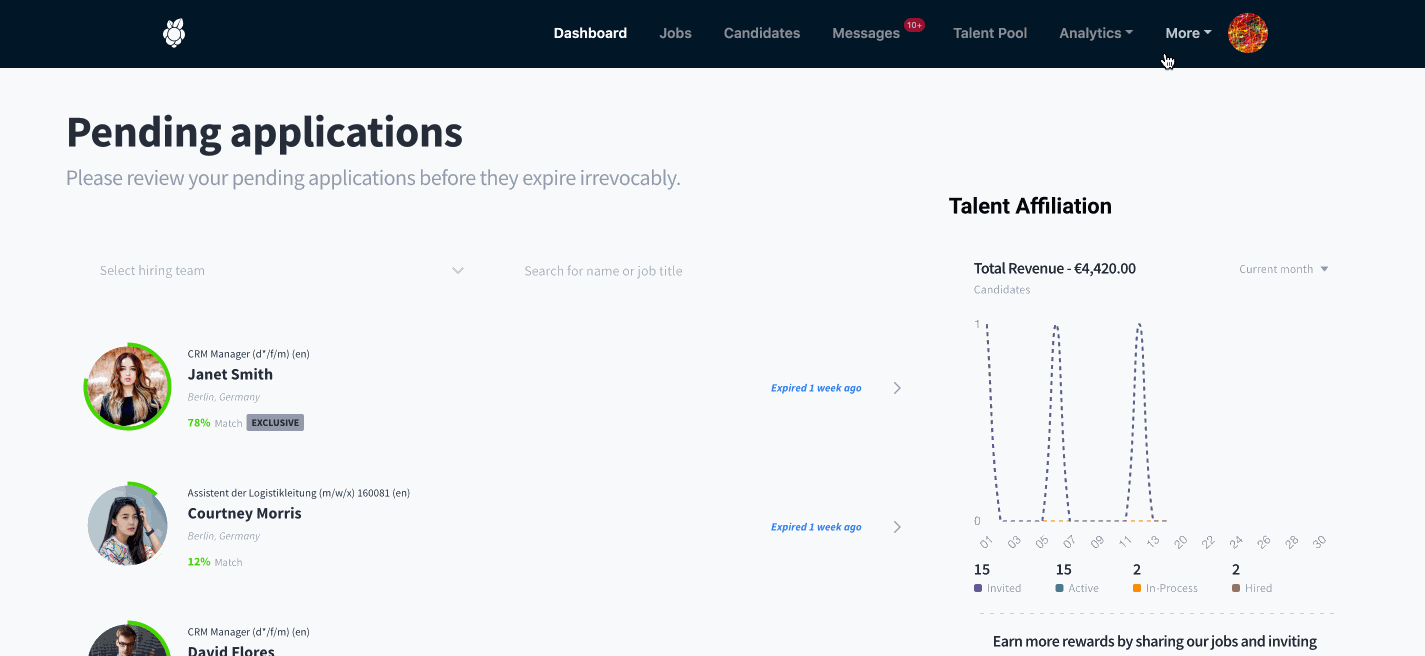 Integration in rejection emails
Integrate your referral link into your rejection email templates for unhired candidates. For best performance recommended to include the referral link as a hyperlink.
Direct integration into your talent pool
Every candidate who now registers on MoBerries via your link ends up directly in your talent pool. From here, you can access those candidates any time while we keep them active by suggesting further relevant job suggestions from other companies in our network.
Reduce your recruiting costs
When one of your referred candidates is invited for an interview or successfully hired by another company, thanks to our monetization feature, you will receive credits so that you can use them to reduce future recruiting costs on MoBerries.
5. Integrations
Use MoBerries in your Applicant Tracking System.






Any questions?
Do not hesitate to contact your partner manager via partners@moberries.com! Furthermore, you can find more information in our FAQs.