At the end of April, we introduced our latest changes to the MoBerries dashboard for our customers. In addition to a new design on the main dashboard, we now have even more detailed statistics on the performance of your hiring processes in our Analytics tab.
In this blog article, we will go over the new features that the latest release of the dashboard includes and help you make sense of these.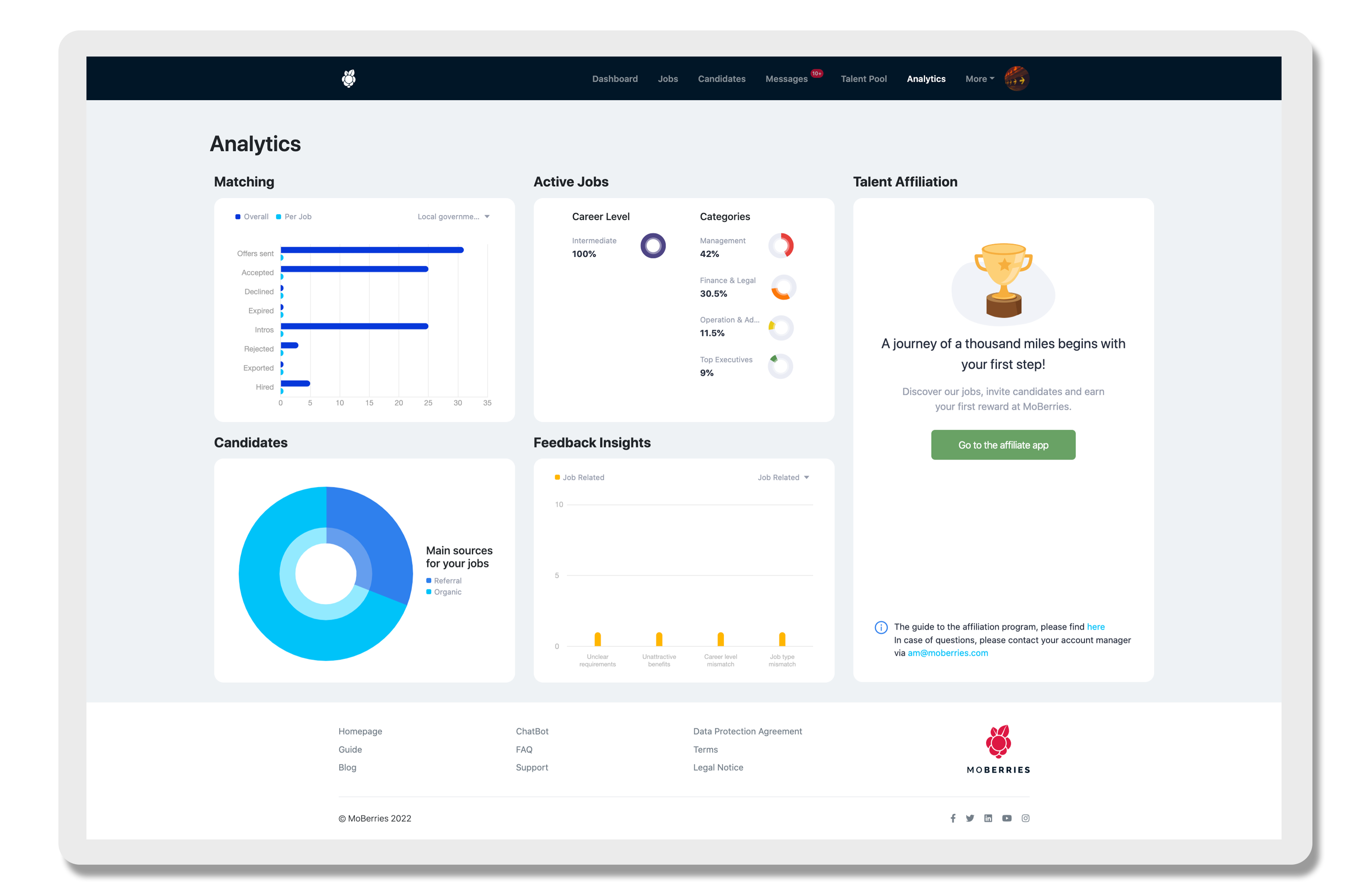 At first glance, it seems very simple, after speaking to partners they outlined the key analytics they would like us to utilize as foundations for further insights and helped us to design this new product. We believe that simplicity is the best way to communicate.  As Albert Einstein said, "If you can't explain it simply, you don't understand it well enough." 
The aim is to help you understand your funnel health as efficiently as possible and work with our team to address the challenges you may be having. We believe that simplicity is the best way to communicate. We asked our account managers what data they use to suggest optimization measures to customers during performance coaching.
MoBerries works to benchmark your recruiting performance against industry metrics to quickly and efficiently identify which steps in your recruiting process need further optimization. Through the continuous development of our platform, we aim to provide customers with even more detailed data in the future to get the most out of any recruiting process.
Information is the oil of the 21st century, and analytics is the combustion engine.

Peter Sondergaard, Senior Vice President, Gartner
MoBerries provides you with important data on the following areas in the Analytics tab to help you optimize your recruiting process:
Matching:
This area provides a glance overview of your sourcing funnel performance and recruiting statistics such as the number of hires and the number of intros. These stats are used in performance coaching sessions to identify inefficiency with the desired target group and serves as a starting point when looking to optimize the funnel.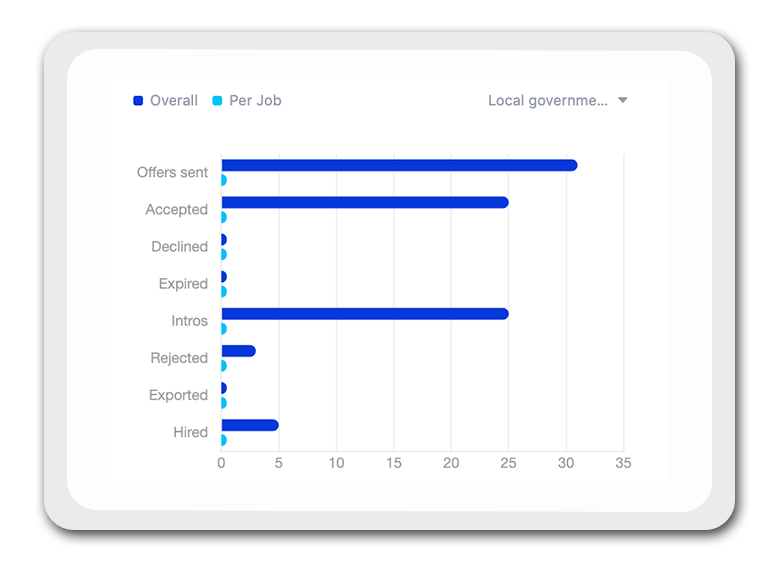 Active Jobs:
This area provides statistics about your published jobs In this section. The overview gives you insights into which level your jobs require and in which categories you have jobs online. This shows how effective you are at attracting candidates from professional backgrounds. You also have the possibility to compare your job offers with the MoBerries candidate pool.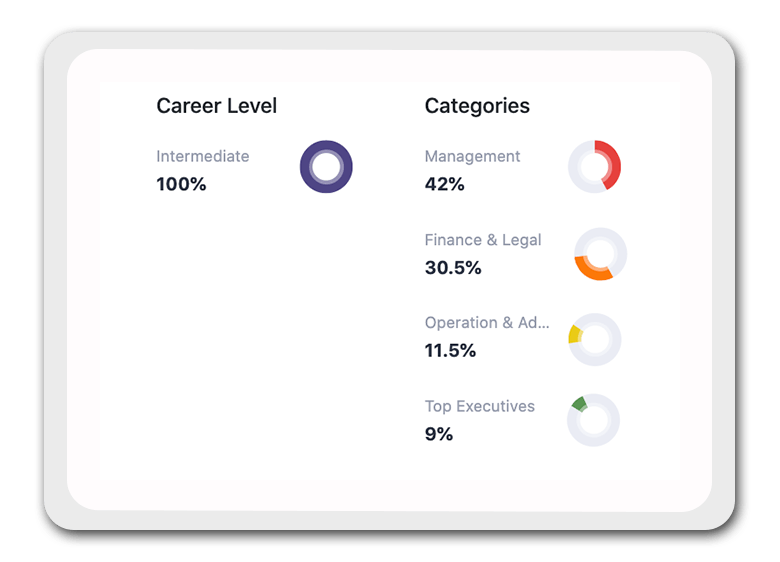 Here you can see in which categories MoBerries candidates are distributed:
You can see the candidate distribution of the different industries on MoBerries on our homepage and compare it with your job ads.
Candidates:
In this section, we visualize for you where your candidates come from. As a multichannel sourcing tool connecting you with over 35 aggregators and 250 affiliates, we want you to understand who are the most effective channels for filling your funnel. This can often vary depending on multiple aspects, such as the hiring manager, seasonality, budget spending, the job description, etc. You can identify your strongest recruiting channels and develop them further.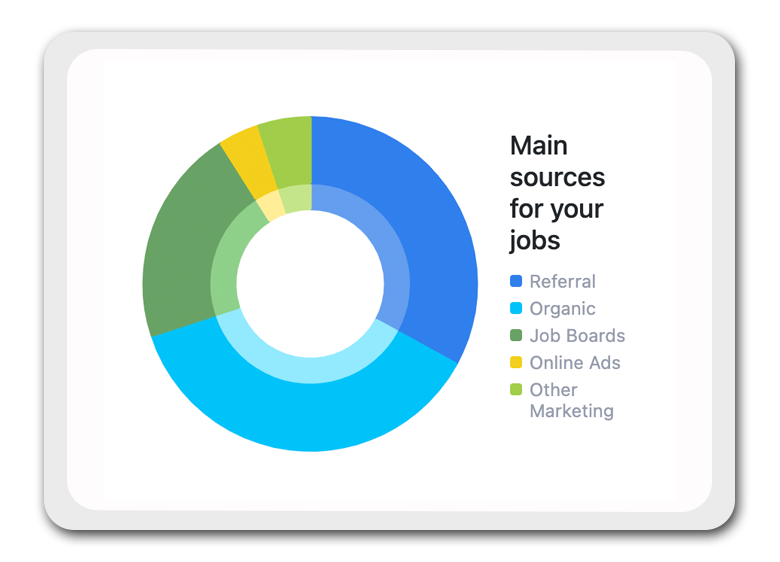 Feedback Insights:
In Feedback Insights, you can find out which reason candidates mention for not accepting your jobs. This helps you measure your employer branding and make your job postings more applicant-friendly. Together with the matching statistics, the Feedback Insights are the ideal tool to understand how the candidates perceive the job and company. We want to empower you to address any concerns you usually would not get in the sourcing funnel. You can also use the two diagrams for A/B testing and change individual points in the job description to see how it is received by the candidates.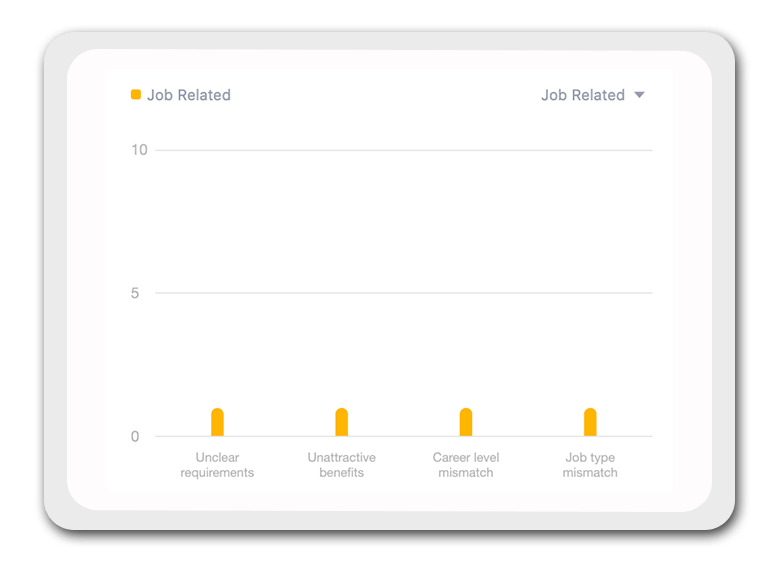 Talent Affiliation:
In the Talent Affiliation section, you can switch to the Affiliate App where you can refer external candidates you don't need via your personal affiliate link. Leverage our referral network, turning the cost center of sourcing into a profit center. Let us nurture candidates you have spent on acquiring outside of MoBerries. Our referral network helps the candidate discover new opportunities when they need it most while keeping them nurtured for you to engage in the future. Earn for referring surplus quality applicants and reduce future acquisition costs.
• Save time, easily build talent networks of qualified, active talent
• Strengthen your employer brand and gain valuable insights with candidate referrals and feedback from relevant applicants who chose not to apply to your job
Talent Affiliation not only increases your ROI when it comes to investing in your employer brand but is also a useful tool to build a relationship with candidates and strengthen your company's employer branding.  In the affiliate app itself, you can track your candidates in real-time and view your status.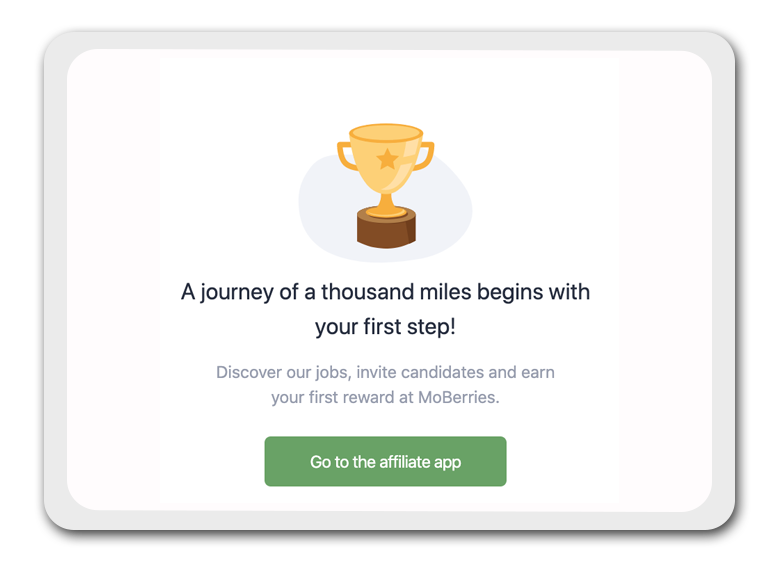 Enjoy the benefits of the affiliate app and register now!
In the development of the market, we have noticed that it is becoming increasingly difficult to find suitable personnel in various departments, such as Sales and HR. Therefore we have launched a 2nd MoBerries product, the MoBerries Virtual Recruiter. The MoBerries Recruiter is an experienced MoBerries in-house recruiter who writes to targeted candidates for you as an employer. The process is 30-40% automated and saves not only the valuable resource of time but also the resource of money. The outreach is personalized and contains no mass mail. Within 48 hours the campaign is launched.
Do you also want to benefit from MoBerrie's advantages? Then start now risk-free and free of charge in our Pay per Hire model and use our Affiliate App feature right from the start. Save not only time but also costs in applicant acquisition.