Climate change dominates our news these days. Topics such as forest fires, food scarcity, and species extinction are part of the daily news cycle, resulting in the calls for change getting louder and louder. Industries are facing major upheavals and will have to adapt in order to remain competitive. Sustainability is also making its way into the recruiting process in the form of green recruiting.
Green recruiting is about communicating the company's commitment to the environment to applicants. The goal is to attract a target group that values the company's environmental consciousness. Additionally, Green Recruiting contributes greatly to the company's employer branding, as a reputation that encompasses the values of its employees and customers is optimal for attracting their loyalty and attention. In this article, we will go into more detail about the following points:
Green Recruiting – more important now than ever
Green Recruiting gives companies an opportunity to stand out in the recruiting market. This is especially important among younger generations, the environmental aspect is non-negotiable. The Fridays for Future movement has shown that tomorrow's professionals care about more than just corporate success. Society identifies more and more with these values (sustainability) and they want the next generations to be able to continue living on this planet. Therefore interest in companies that act sustainably is growing. This is not new, according to a 2014 study, 49 percent of Millennials already preferred to work for a sustainable company then.
A growing number of investors are prioritizing company image in terms of corporate identity connected with green recruiting. In 2018, enterprises in the working industry (excluding construction) invested 2.4 billion euros for environmental protection in Germany (Statistisches Bundesamt). Investors know that sustainability can pay off financially and is not just an additional source of costs.
Green Recruiting is now the industry standard -  being environmentally conscious not only strengthens the corporate identity but also adds more character. This can be reflected in the finances, as not only does it connect applicants and employees to the company - it is also increasingly important to customers how the company is aligned with sustainability.
MoBerries is committed to being a strong sustainable partner and supports companies in their recruiting process, with the help of candidate upcycling.
Candidate upcycling with the assistance of MoBerries
MoBerries helps companies make their processes even more sustainable while developing their applicant ecosystem. We believe that the future of recruiting still has a long way to go in terms of sustainability. Beyond our own green goals, we developed a process to assist companies with a green recruiting strategy.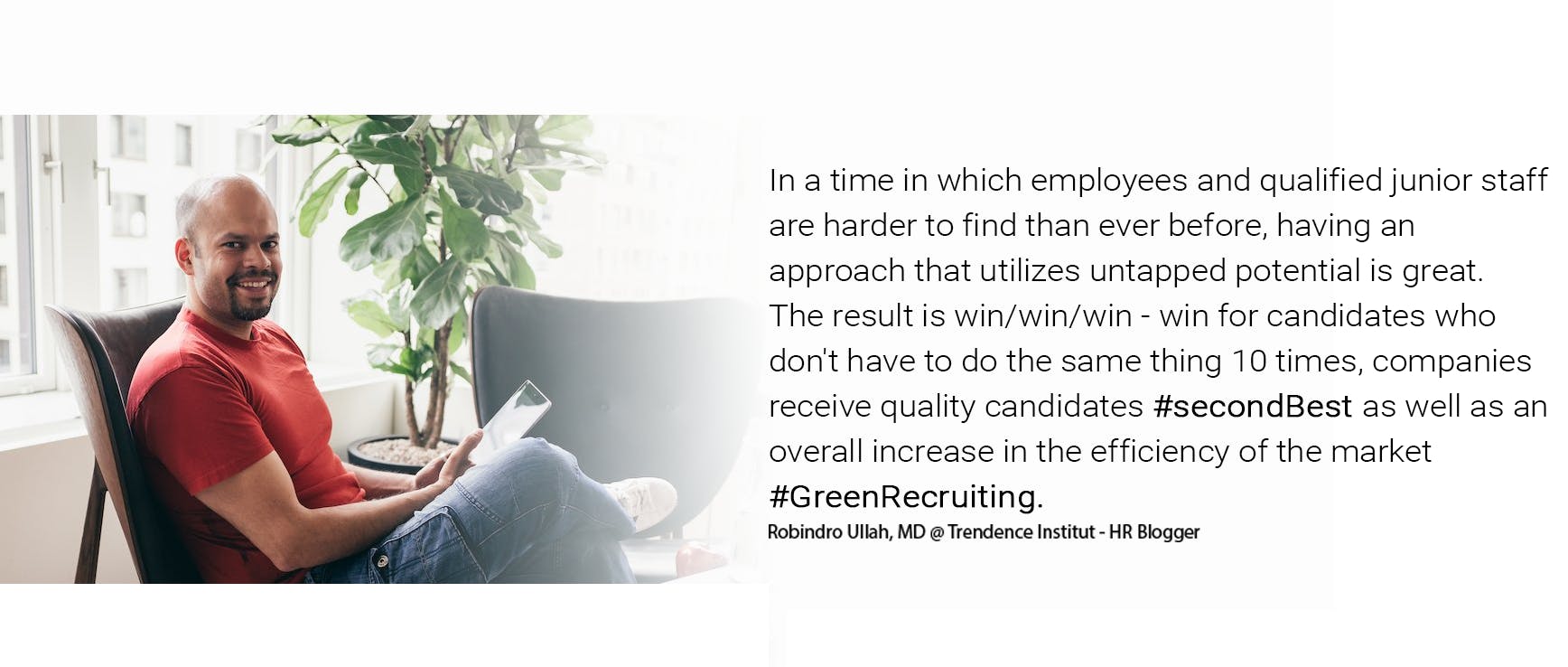 We know the recruiting process can be very expensive and consumes a lot of resources. According to a study by the Institute for the Study of Labor (IZA), the average cost per hire is 4700€. To develop a resource-saving process, MoBerries gives companies the opportunity to upcycle their own applicants!
More articles on
Employer Branding
How it works – upcycling your applicants
Let us the average company receives several applicants for the advertised position but usually hires one. They have spent a lot of time and effort attracting and screening qualified applicants. For example on average, jobs were vacant for 129 days in 2019 before they could be filled (Bundesagentur für Arbeit). It is also usually necessary to involve intermediaries such as job boards and recruiters/head hunters in the process, which takes up resources. It would be inefficient to simply lose touch with the applicants who were not hired.
This is where MoBerries monetization feature comes in. You can add candidates to our open Talent Pool and refer them to MoBerries at the same time. We take care of the nurturing of your non hired candidates, helping them discover new opportunities when they need them most. This not only gives you access to these talents at a later date. It also allows you to reduce the cost of sourcing candidates on MoBerries if another company interviews or hires your referred candidate. The system learns from candidates which you have already seen.
Talent Pools are not a new addition to the world of recruiting but at MoBerries we have built a smart Talent Pool Network. We maintain the Talent Pool for you at no extra cost and our data-driven technologies deliver highly qualified candidates. The best part is that in our success-based model you only pay when you hire. 
We strongly believe that the future of recruiting lies with peer-to-peer hiring between companies and removing the middlemen. It is an important aspect of sustainability to have a flexible candidate process. 
Green Recruiting is not just a trend but is the standard. Every company that wants to remain successful in the long term should integrate Green Recruiting into its processes. If you do not want to be left behind, you must start adapting your recruiting processes to the demands of today´s marketplace.
In our upcoming blog, we will show you 7 tips that will help you to implement Green Recruiting in your company.